Updated: House Majority Whip Steve Scalise was shot in the hip and multiple Congressional aides were hit by a gunman with both a rifle and pistol who targeted Republicans and opened fire at a baseball practice in Virginia Wednesday morning. At least one aide was shot in the chest.
The gunman was shot by U.S. Capital Police, apprehended and taken to the hospital.
Rep. Mo Brooks reportedly used a belt as a tourniquet to stop Scalise's bleeding. The Congressional teams were practicing for a charity baseball game that raises over a half million for a local charity.
Rep. Ron DeSantis, R-Fla., told Fox News he left just before the shooting. As he walked to his car, a man asked DeSantis if it was Republicans or Democrats practicing. About three minutes later the shooting began, DeSantis said.
The shooting began at 7:15 a.m. and lasted about 10 minutes, sources told Fox News. "Behind third base, I see a rifle…I hear Steve Scalise over near 2nd base scream," Brooks told CNN.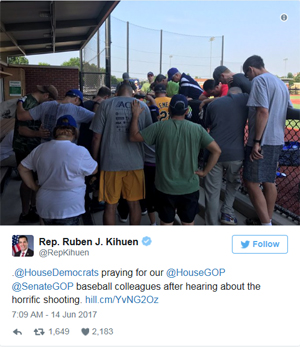 Scalise, 51, is the House majority whip. He has represented Louisiana's First Congressional District since 2008 and chairs the House Republican Study Committee. He is married with two children. Scalise's district includes New Orleans.
Scalise, who studied computer science at Louisiana State University, worked as a systems engineer before launching his political career. Scalise endorsed President Trump during last year's presidential campaign, and has been a vocal backer of Trump's travel ban. As leader of the powerful study group, he has also spearheaded the effort to repeal and replace ObamaCare.
The Congressional Baseball Game is scheduled for June 15 at Nationals Park. The game, which has been a tradition since 1909, pits Senate and House members of each party who sport the uniform of their home state. The practice location is about 10 miles from Washington, D.C.
The shooter is in police custody.  Latest reports note five people in total where shot and the shooter died of his injuries at the hospital.
Click here for more from Fox News.
The shooter has been identified as James T Hodgkinson.
His Facebook profile shows a strong self-identy as a Bernie Sanders loyalist.  Pictures are also surfacing of Hodgkinson conducting political protests – all from the Leftist or Communist side of American political debate.
President Donald Trump in a press conference on the shooting this morning announced Hodgkinson died of his injuries.
It may be time to question the politically motivated hysteria, propaganda and complete fabrications by Democrats and others on the Left. They are responsible for this violence.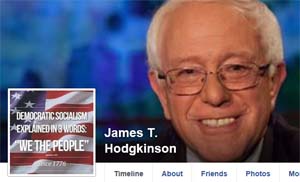 Maybe Kathy Griffin should pay all the hospitable bills or the delusional and demonstrably mentally ill Rep. Maxine Waters should face a special prosecutor.
It is not OK to hate the President of the United States of America.  It is not ok to produce a play in New York showing his public murder.
Over decades Republicans have been held to the standard of public and private behavior set by Jesus Christ, but Democrats are somehow approved to do anything, say anything, riot, lie (Barack Obama and Ben Rhodes), steal (Bill and Hillary Clinton), burn colleges and attack conservative speakers and are never rightly shamed.
The Democratic Party must correct its own or be damned for the consequences.