Whole Foods invites new and regular customers to join in support of a "Community Giving Day" on Thursday, June 22, 2017. That day, 5% of net sales from both Brookside and Yale locations will be donated to support Saint Francis Tulsa Tough's mission of promoting fitness and healthy lifestyles and showcasing the beautiful city of Tulsa.    
"As part of Whole Foods Market's commitment to its core value of caring for our communities, both Tulsa stores look forward to partnering with Saint Francis Tulsa Tough to help support their fundraising efforts," says Melissa Carlson, Marketing & Community Relations, Whole Foods Market Tulsa.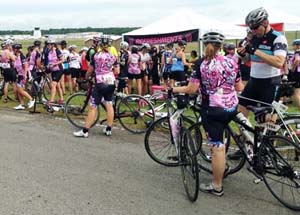 Malcom McCollum, Executive Director of Saint Francis Tulsa Tough added, "When Whole Foods Market joined us as the sponsor of the rest stops at Saint Francis Tulsa Tough, we were able to provide nutritious natural food for our participants. Receiving donations from June 22 sales on top of Whole Foods Market's participation at the event makes us feel doubly fortunate. We are grateful for the partnership and together we will give back to the community."
Customers are invited to shop the Brookside store at 1401 E 41st St or our Yale store is located at 9136 S Yale Ave – both open from 8:00 am to 10:00 pm.