Pollstar announced today their 2017 Mid-Year Top 200 Arena Venues based on ticket sales and BOK Center finished #17 in the United States and #40 in the world.  BOK Center was also the highest ranked arena in North America managed by SMG, the Philadelphia-based venue operator that manages over 230 facilities, nearly 70 arenas, and over 1.75 million seats worldwide.
The #17 ranking in the United States puts BOK Center right behind Wells Fargo Center (Philadelphia) who ranked #15 and right in front of Staples Center (Los Angeles) who ranked #19. Tulsa beat LA – its a fact. 
The Tulsa venue sold more concert tickets than arenas in several larger markets including New Orleans, Las Vegas, Chicago, Houston and Austin.
"We are so thankful for the concert promoters and agents who continue to believe in the Tulsa market and we are so fortunate to be in a city that has embraced the venue," said BOK Center General Manager Jeff Nickler.  "This honor doesn't only belong to SMG, but also to our regional ticket buyers, sponsors and corporate partners that have supported this venue from day one."
The first half of 2017 was highlighted by several sold-out concerts that included Red Hot Chili Peppers, Eric Church, Twenty One Pilots, A Perfect Circle, Chance the Rapper and Chris Stapleton. BOK Center has already announced a stellar line-up for the second half of the year with artists to include Florida Georgia Line, Ed Sheeran, Janet Jackson, The Weeknd, Guns N' Roses, Foo Fighters and Katy Perry.
"Congratulations to BOK Center staff, all local music fans and our promoter partners for achieving such a high ranking for U.S. ticket sales," said Doug Thornton, Executive Vice President for SMG. "This shows that Tulsa continues to be a strong market for live entertainment and we are thrilled to be a part of that success story."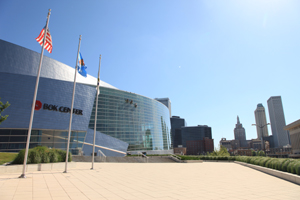 The O2 (London) topped the overall ticket sales rankings and Barclays Center (Brooklyn) garnered the top United States spot. The rankings are determined by tickets sold worldwide for concerts from January 1, 2017 to June 30, 2017.
Pollstar totals do not include tenant sport team ticket counts, some family shows, or SMG-produced special events.
Pollstar is a weekly trade publication covering the worldwide concert industry.