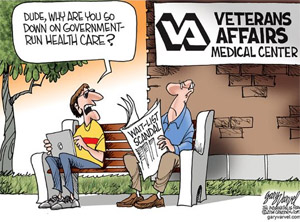 Our veterans fought to secure our freedom and security, and they deserve the best possible medical care. But for too long this care has not been provided. There has never been a more opportune time to address the problems facing Oklahoma's Veterans Administration hospitals. With President Trump in office, we finally have a leader who has already shown his willingness to take tough action to ensure our veterans get the care they deserve.
During the Obama administration, I requested that the VA inspector general evaluate and address problems in Oklahoma on multiple occasions, but each time I was provided a report that didn't truly address the issues.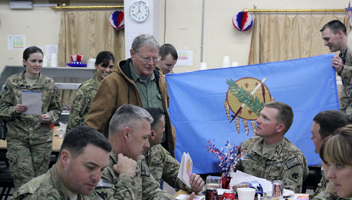 There was a leadership problem at the VA in Oklahoma. The outrage I felt after USA Today published an article in December 2015 detailing the appalling standards of care at our Oklahoma City clinic compelled me to block the confirmation of the VA's inspector general nominee until I saw changes implemented.
Unfortunately, this was the kind of drastic action required to secure new leadership at Oklahoma's VA facilities. Since taking action, there have been new directors named at the VA centers in Oklahoma City and Muskogee. The VA also agreed to conduct a review of Oklahoma's centers with an outside entity specializing in auditing health care systems, ensuring our centers are held to the same standards as the private sector. It was only after I received this commitment I agreed to lift my hold on the nominee, allowing his confirmation to move forward.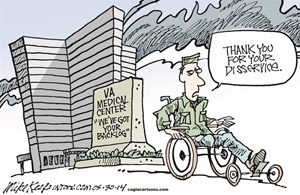 Recently the IG released a report on Muskogee VA and we are expecting the Oklahoma City VA report to come out soon. Ralph Gigliotti, Oklahoma's regional Veterans Integrated Service Network director, has been a faithful partner in the effort to learn from past mistakes and to turn things around in Oklahoma. With the help of his handpicked leaders in Oklahoma City and Muskogee, he is ensuring the implementation of new processes and procedures to improve veteran care. In just the past year and a half, the Oklahoma City facility has seen its rating improve from one to three stars.
Outside oversight ensures our VA hospitals are held to the same standards as private hospitals. A fresh set of eyes, from outside the VA, will enhance everyone's efforts to ensure our VA facilities are world class.
A number of the issues at Oklahoma's facilities were identified as a result of the external audit I demanded and significant improvements are still necessary. But currently, VA regional directors don't have the authority to contract with third parties to conduct investigations into their VA facilities. This is why Sen. James Lankford, Rep. Markwayne Mullin and I introduced the Enhancing Veteran Care Act, which would give this authority to the regional directors.
Veterans across Oklahoma and throughout the country have lost faith in our VA because they haven't received the proper care they deserve. The Enhancing Veteran Care Act is desperately needed so our VA can understand and address the challenges they are facing, which will put the agency back on the right track.
President Trump has already demonstrated his willingness to shake things up at the VA. In June he signed into law, the VA Accountability and Whistleblower Protection Act, which allows the secretary of the VA to fire bad actors throughout the agency. This law was based on a bill that I introduced last Congress with Lankford and Mullin. And since Trump took office, the VA has been empowered to dismiss more than 500 employees for misconduct.
Veterans deserve access to top-notch care. I promise to continue to do everything in my power to ensure that Oklahoma's VA facilities are able to provide them the care they deserve.
This article first appeared in the Oklahoman, click here for that post.