According to The Independent, tens of thousands of North Koreans gathered in Pyongyang yesterday to cheer on their dictator, hailing Kim Jong Un's fiery rhetoric and saluting the tinpot tyrant's nuclear lust – even as it inches the impoverished nation toward an apocalyptic confrontation with the United States.
A mammoth army of the country's workers, dressed alike in white button-down shirts, and with many sporting matching red ties, raised banners lauding the North Korean military and raised their right fists in the air in a public gesture of solidarity with Kim Jong Un.
The images of a united North Korea come with a caveat, however; the participants in the rally likely had little choice but to attend and cheer enthusiastically, as freedom of expression is a punishable offense in the autocratic regime.
The elite class, dressed in black, applauded the workers as they rallied.
The stunning rally comes amid escalating North Korean threats to attack the U.S. territory of Guam; Pyongyang's continuing tests of intercontinental ballistic missiles; a Tuesday report that North Korea has miniaturized nuclear weapons; and President Trump's own statement that additional North Korean threats would be met with "fire and fury."
North Korea also officially dismissed Trump's threats on Wednesday, declaring the American leader 'bereft of reason' and warning ominously that 'only absolute force can work on him'.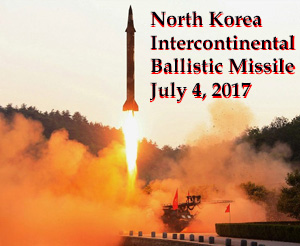 In a statement carried by state media, General Kim Rak-gyom, who heads North Korea's rocket command, also said his country was 'about to take' military action near the US Pacific territory of Guam.
He said the North would finalise a plan by mid-August to fire four mid-range missiles hitting waters 19 to 25 miles away from the island.
This week, an official Japanese report and a classified US intelligence document, the latter reported by The Washington Post, combined to suggest the North was closer to being able to strike the United States with a nuclear missile than previously believed. The US document reportedly assessed that the North had mastered the ability to fit a nuclear warhead on its long-range missiles.
Click here for more from The Independent including video of the event.