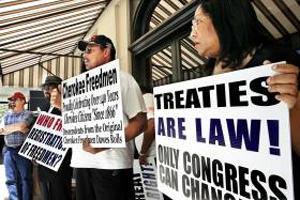 Tulsa Today is one of the few media following a 14-year legal battle decided yesterday by the DC Federal District Court which held that Freedman, descendants of slaves held by Cherokee Nation and granted citizenship rights in the Treaty of 1866 following the Civil War, have a right to full citizenship under the Treaty. 
The case of Vann v. Norton  was filed in 2003 following the US  Decision to affirm the Seminole Treaty of 1866 for its Freedmen, but reversed its position with regard to the similarly situated Cherokees.
Thereafter, a vote by the citizens of the Cherokee Nation expelled the Freedmen, resulting in further litigation where some, but not all Freedmen held their citizenship rights until today. The case was merged with Cherokee Nation v. Nash and had its last arguments in Washington in 2014.
The Federal Court writing in part of the 78 page decision,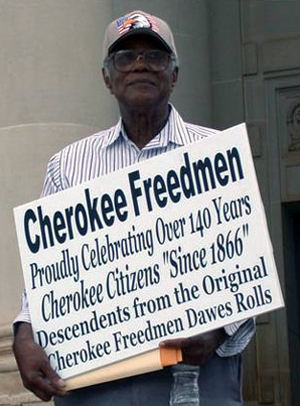 "The Cherokee Nation can continue to define itself as it sees fit but must do so equally and evenhandedly with respect to native Cherokees and the descendants of Cherokee freedmen. By interposition of Article 9 of the 1866 Treaty, neither has rights either superior or, importantly, inferior to the other. Their fates under the Cherokee Nation Constitution rise and fall equally and in tandem. In accordance with Article 9 of the 1866 Treaty, the Cherokee Freedmen have a present right to citizenship in the Cherokee Nation that is coextensive with the rights of native Cherokees."
Lead Counsel Jon Velie of Norman, Oklahoma says, "This is a wonderful victory for the Freedmen who regained their identities as equal citizens in their nation. It is a victory against racial oppression and division. It is a win for Native Americans as the Federal Courts have enforced both treaty rights of citizenship while maintaining Tribes and elected officials rights to determine citizenship and self-determination pursuant  law."
Cherokee Freedmen Lead Plaintiff and President of the Freedmen of the Five Civilized Tribes Association Marilyn Vann was overwhelmed with the decision saying, ""I am filled with joy that my people, the Freedmen, will continue to be citizens, as our ancestors have, in the Cherokee Nation. I look forward to the healing within our proud and amazing people."
Velie told Tulsa Today in an exclusive interview,  "A Treaty is the ultimate form of law. It was the right decision to include Freedmen as full citizens in 1866 and it is the right decision today. Hopefully, the Cherokee Nation will now move forward united."