Regnery Publishing announced this week it is cutting all ties with the New York Times — including the New York Times bestseller list.
"As a conservative publisher, we believe that the Times' list does not represent national sales of conservative books as accurately as other widely-published bestseller lists," said Marji Ross, President and Publisher of Regnery.
In a letter to authors and colleagues, Ross stated:
"Increasingly, it appears that the Times has gathered book sale data in a manner which prioritizes liberal themed books over conservative books and authors. The net result has been a bestseller list that has increasingly become less relevant to the Regnery audience, and less reflective of which books are actually selling best in the country, regardless of one's political persuasion."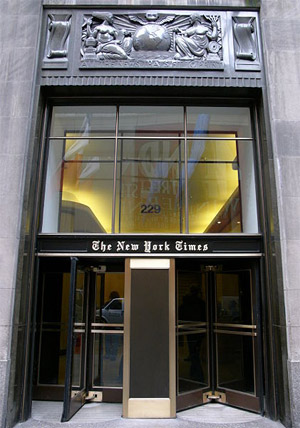 As an example, though the disclaimer at the bottom of the New York Times list states, "Rankings reflect sales for the week ending…" the most recent bestseller list for the week of September 3, 2017 listed The Big Lie: Exposing the Nazi Roots of the American Left (Regnery; July 31, 2017) at #7 on the list, despite being #1 in sales out of all 15 books featured on the list, according to Nielsen BookScan. For the same week, No Go Zones: How Sharia Law is Coming to a Neighborhood Near You by Raheem Kassam (Regnery; August 14, 2017) had the 10th highest sales of the 15 books on the list, according to Nielsen BookScan, but was not placed on the list at all.
Ross added, "We refuse to continue to highlight a list which has an increasingly diminished value to our audience. Therefore, we will no longer promote, publicize or frankly even bother to mention this list. Our bestselling books will no longer carry the 'NYT bestseller' banner on their covers, nor will we use the moniker in our marketing or publicity. Instead, we will continue to track sales, as a large number of media groups do, through Nielsen's BookScan report, and we will use the Publishers Weekly bestseller list as our benchmark."
Regnery also announced it will abandon using the New York Times list as the basis for bestseller bonuses in all future author contracts and employee compensation packages. Going forward, it will use the Publishers Weekly list instead.
Regnery Publishing, a Salem Media Group Company, is the country's leading publisher of conservative books. Salem Media Group is America's leading multimedia company specializing in Christian and conservative content, with media properties comprising radio, digital media and book, magazine, and newsletter publishing.