Opinion: The disgusting nature of personal attacks on President Donald J. Trump are understandable as Leftists internalize full rejection of their fake views and failed policies, but picking on the Trump family as Lynn Yaeger did recently is beyond offensive. It is rage inducing, politically damning and opens Yaeger to public questions of her personal and professional judgment. It's time to fashion judge the fashion judge. 
Lynn Yaeger is a contributing fashion editor of Vogue and Vogue.com, and a former Village Voice fashion reporter for 30 years. In a piece for Vogue on August 29, Yaeger trashed First Lady Melania Trump for her choice of footwear while boarding Air Force One to visit Hurricane Harvey flood-ravaged Houston. With a condescending sneer, Yaeger wrote:
"Oh, Melania.

In the words of the late, great Lou Reed, you 'couldn't hit it sideways.' […]

This morning, Mrs. Trump boarded Air Force One wearing a pair of towering pointy-toed snakeskin heels better suited to a shopping afternoon on Madison Avenue or a girls' luncheon at La Grenouille. […]

But what kind of message does a fly-in visit from a First Lady in sky-high stilettos send to those suffering the enormous hardship, the devastation of this natural disaster?

And why, oh why, can't this administration get anything, even a pair of shoes, right?"
Yaeger is a native of New York and while some in her circles of influence may believe no opinion west of the Hudson River valuable – all can judge by appearances how humans present themselves. So what "message" does Lynn Yaeger seek to provide to the world from her personal choices in makeup and apparel? Can we guess her family values from eccentric personal style, powered face and dark, cupid's-bow lipstick?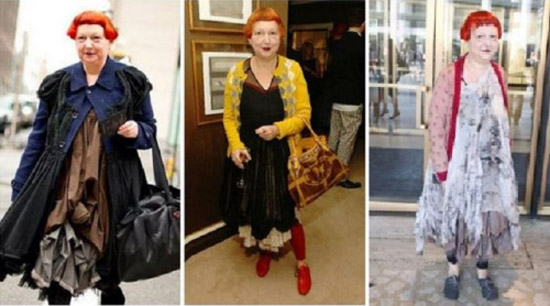 Wikipedia notes her history:  Lynn Yaeger is a former fashion reporter for The Village Voice, having worked for the paper for 30 years. Her column, "Elements of Style", was renamed "Frock Star" in February 2007.
Yaeger is also a regular contributor to The New York Times, Style Magazine, American Vogue, Travel & Leisure, and countless antiques & collectibles dealers. Lynn is a fashion columnist for Full Frontal Fashion, a style website in association with Sundance Channel.
In 2008 Lynn won first in the National Society of Newspaper Columnists' category of humor writing for newspapers with more than 100,000 circulation. 
To call Lynn Yaeger funny is, at best, an understatement. Bizarre would be accurate and some suggest her look is mirrored in thousands of nursing homes by dementia patients and young overweight women who read vampire novels.
An outrageous look is typically selected by ugly people desperate for attention. With apparent self-awareness she could never present as attractive, Yaeger for decades from all reports, made her look a dark cartoon version of femininity – highlighting bags under her eyes and no upper lip.
However, any analysis we could make pales to those found on Dr. Eowyn's post on Fellowship of the Minds. Compared to the comment section, Dr. Eowyn is gracious in his review.
Sunny in TX wrote; "She should've tried out for the new Pennywise clown in the movie IT."
Josephbc69 wrote in part, "…And that makeup! Wowee-zowee! It puts her clearly in the Raggedy Ann-Hitler's grandmother class of eye-breakers, IMO, of course. And her preferred hair colour is…"
Other commenters were even more brutal on the fashion editor's fashion.
What personal objection Yaeger may have to Melania Trump is not clear, but the contrast in style between the two is vast – different universes one could say.
Melania Trump is accomplished, intelligent and successful in her own right. She is a wife and mother beloved by her family.  Melania Trump is far above and beyond Yaeger. As First Lady of the United States of America (FLOTUS) Melania represents the nation with style and grace and great beauty beyond that of any First Lady in decades.
When Melania deplaned in Houston wearing a pair of tennis shoes, Yaeger and Melania's other fashion critics all had egg on their faces – not that anyone could tell if there is egg on Yaeger's face.