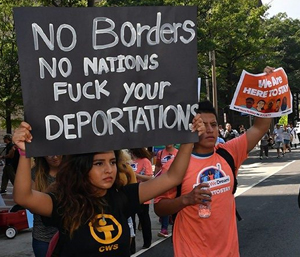 Saturday the FWD.us coalition hosted an Oklahoma tele-forum to address President Obama's unconstitutional action to allow so-called "Dreamers"  to be rewarded for criminal invasion.
The propagandists of OKC based Jones Public Relations asserted in a press release on the event that more than 6,900 Dreamers in Oklahoma face the imminent threat of being ripped from their families, friends, jobs and schools. This, of course, is a lie.
ICE, the U.S. Department of Homeland Security Immigration and Customs Enforcement, is cracking down on criminal aliens in many cities. Those targeted have been convicted of serious crime and, in most cases, deported multiple times. They are serial criminals and clear threats to public safety.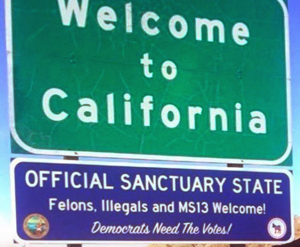 The OK tele-forum began with a state of play update on Dreamer-focused legislation from FWD.us. Participants, including education and community leaders, highlighted the impact the lack of a long-term legislative solution for Dreamers has on education, the economy, students and teachers.
Many Dreamers are students, or parents to U.S. citizen children the press release noted. Others like Brisa Ledezma, who spoke during the tele-forum, are "educating the next generation of American leaders as teachers in classrooms across the country" apparently propagandists think that a good thing.
Author and commentator Ann Coulter jestingly recommended recently prioritizing the most obnoxious cohort of illegal immigrants for deportation in an  interview with Breitbart.com:
It has to be said that many of the legal and illegal low-wage workers, they're incredibly hard workers, they're really nice people, and it occurred to me … that I actually like all of the illegal immigrants except the DREAMers. They're the ones I want deported first because they're the activists. They're the obnoxious ones. They're the ones who go to congressional offices and stamp their feet and say, "How dare you not rush to grant us amnesty?" Whereas the other illegals don't have the time to be protesting; they're busy working, being polite, being so friendly and nice and saying, "Merry Christmas."
The press release asserts, "If a solution is not found, 6,900 Oklahoma DACA recipients could have their work authorization stripped from them and be at immediate risk for deportation.
"Oklahoma DACA recipients pay more than $17.4 million a year in state and local taxes and the state could face an annual GDP loss of $336 million every year if DACA authorized workers are removed – severely harming the Oklahoma economy." [According to "progressive" sources.]
The tele-forum ended with a call to action to contact and urge members of Congress to finally bring certainty to this issue.
American activists, to the contrary, demand a physical border wall be completely constructed before any amnesty is provided to anyone. Simply: WALL FIRST.
Quotes from participants include:
"Oklahoma Dreamers have a significant impact on our lives and communities. Without them, we would not only lose valuable students, and teachers like Brisa, but the economy would suffer as well. It would be devastating to lose these integral members of our community," said Robert Ruiz, president of Scissortail Community Development Organization and Aspiring Americans.
Gerardo Rico, DACA recipient and Oklahoma State graduate, said, "DACA allowed me to graduating [sic] top of my class at Oklahoma State University. I want to continue to use my education to contribute to Oklahoma, the only home I've ever known." [Apparently, Rico did not study grammar at OSU.]
Brisa Ledezma, DACA recipient and 6th grade math teacher at Santa Fe South, "My students, family and friends all depend on me. It is heartbreaking not being able to tell them whether I'll be here next year, next month, or even next week. A solution is long overdue so that I can finally start planning my life beyond the next few days, and into a lifetime of service to Oklahoma communities through education that is spent alongside my family and friends."
Do criminal aliens teach American children law-breaking or law-keeping?
FWD.us is a bipartisan organization started by arrogant wealthy elitists in the tech and business community to promote policies that may destroy the United States, but that they find helpful to their business models and in alignment with cocktail party chit-chat.