Pop superstar Justin Timberlake brought his "Man of the Woods" tour to Tulsa Saturday night and, for a couple of hours anyway, transformed the BOK Center into his own campground.  The main stage's catwalk meandered through the arena, resembling a tree-lined nature trail including a campfire at one point. The multi-instrumentalist owned the stage from the moment he stepped out of the darkness, performing "Filthy" and "Midnight Summer Jam" from his latest album, his first in four years.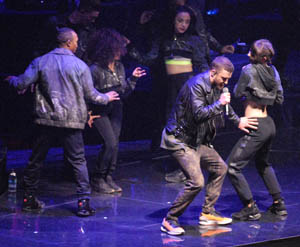 The first half of his show also included some of his older hits like, "SexyBack," "Senorita" and "Suit & Tie."  Midway through his show Timberlake asked the packed house, "Do you know what Cinco de Mayo means Tulsa?  It means tequila!" He then handed a tray of tequila shots from the stage bar in the center of the arena floor and distributed them to the supporting musicians.  When they all had downed their drinks, Timberlake then performed 2013's "Drink You Away."
Timberlake then led them to the small round stage at the back of the arena, where he lit a literal campfire for what Timberlake called "sharing stories."  Members of his background singers he calls Tennessee kids were given their time in the spotlight as they performed covers of Fleetwood Mac's "Dreams," the Beatles' "Come Together," Lauryn Hill's "Ex-Factor" and ending the sing-along with John Denver's "Thank God I'm a Country Boy."
Timberlake closed out his set with more older tunes such as "Summer Love," "Rock Your Body" and "Can't Stop the Feeling" from the "Trolls" soundtrack.
Photos and story by Greg Duke, Tulsa Today.