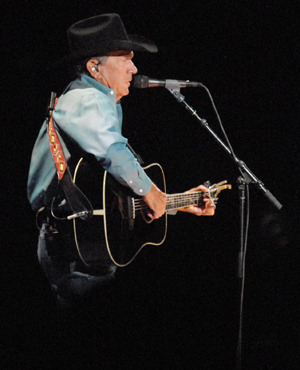 George Strait, the King of Country Music stepped out of retirement to perform two sold out shows over the weekend at Tulsa's BOK Center.  As part of the arena's "10 For 10" concert series celebrating its 10 year anniversary, Strait was originally slated to play just one show, but added a second show when the first concert sold out in a matter of minutes.
Strait's last appearance in Tulsa was in 2014 during his "The Cowboy Rides Away" tour following his announcement in 2012 that he was retiring from touring.
Once again performing with his Ace In the Hole band, the country music superstar took the crowd on a journey of his career, from "Unwound" (1981) through "Cold Beer Conversation" (2015) and everywhere in between.
The large stage sat squarely in the center of the arena with microphones placed in all four corners, allowing Strait to move freely from one to the next, playing to fans in every direction.
Referring to the character he portrayed in the 1992 motion picture, "Pure Country," Strait asked the audience, "y'all remember Dusty, don't you?" leading into "I Cross My Heart."  He then played a song written by his son, "Arkansas Dave."  Citing the late Merle Haggard as the biggest influence on his career, Strait honored Haggard by performing "Sing Me Back Home" and "Are The Good Times Really Over."
With a catalog as deep as George Strait's, it must be a challenge putting together a set list, but he did a masterful job of mixing his biggest hits with some lesser known album cuts.
Strait's 31-song set came to a close, appropriately, with "The Cowboy Rides Away."  If this was truly the final time he performs in Tulsa, he walked away on his own terms, the George Strait way.