Environmental Protection Agency Administrator Scott Pruitt said America would soon be "energy dominant and energy independent," a year after President Trump pulled out of the Paris climate accord.
In an interview with the Washington Free Beacon Pruitt called leaving the agreement "historic" and addressed controversy over his leadership at the agency, saying the president fully supports him.   
"The president a year ago this Friday said he's going to put America first," Pruitt said. "We weren't as a country going to be apologetic about how we do business, with respect to these environmental issues."
Pruitt said technology and innovation has allowed the United States to lead the world in carbon emission reduction, and had no reason to be in a "failed agreement" the Obama administration made in Paris.
"You wouldn't know that from the media, you wouldn't know that from the discussion in Washington, but literally, we've led the world," Pruitt said. "Why would we ever go to Paris, as we did in 2015, and apologize to the rest of the world? And allow China and India not to have to take any steps of CO2 reduction until 2030?"
"I firmly believe this accord was more label than reality," he said. "It was not about action and results. It was about politics."
Pruitt said environmental outcomes are improving, despite dire predictions about leaving the Paris agreement.
"Our air quality with respect to ozone is 10 percent better than the last time it was measured," he said. "We're cleaning up more superfund sites across the country, we're investing in infrastructure to address lead in our drinking water. Environmental outcomes are improving at the same time that we're saving $1 billion in regulatory costs."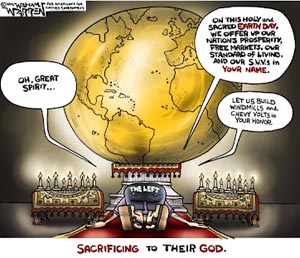 "We're actually demonstrating as a country you can be about jobs and growth and environmental stewardship at the same time," Pruitt said.
Pruitt is adamant that defending the environment and growth in the fossil fuel industry can occur at the same time.
"Imagine an agency of the federal government declaring war on coal?" he said, alluding to the Obama administration's Clean Power Plan to shrink the coal industry by half.
"For an administration to engage in a war against fossil fuels is just simply wrongheaded to begin with," Pruitt said. "But this president from the very beginning said that, 'The war on coal is over.'"
"We're going to be energy dominant and energy independent," he said. "When you see that taking place, that's the reason there's tremendous optimism across the country, tremendous optimism for our economy and the future and the ability to be about stewardship, and jobs and growth."
Pruitt also addressed a series of controversies in recent months over his leadership at the agency, including aides receiving high pay raises and accusations of extravagant spending.
"I knew it would be noisy," he said. " I knew it would be challenging. It's been intense the last couple of months. But [Trump] has been very encouraging, very empathetic, and very supportive."
Click here for more of this interview from the Washington Free Beacon.