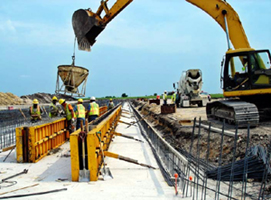 The Turner Turnpike will see overnight closures this week between Oklahoma City and Wellston as construction on the new Eastern Oklahoma County Turnpike continues. The closures are part of a project to install bridge beams near Luther Road on the new interchange that will connect the EOC Turnpike to the Turner Turnpike (I-44). 
Tonight, June 11, the eastbound Turner Turnpike will close from 10 p.m. to 4 a.m. for installation of bridge beams from Oklahoma City to Wellston. All entrances to the Turner Turnpike in Oklahoma City will be closed to traffic eastbound and detoured to State Highway 66 to Wellston. Motorists will be able to re-enter the turnpike at Wellston.
Additional closures westbound will take place Saturday, June 16, as crews will detour traffic once again at Wellston to Oklahoma City on State Highway 66 from 12 a.m. to 4 a.m.
One additional closure eastbound will occur, but that date has not been set.
Motorists should make alternate travel plans during the overnight hours and obey all traffic signs within the construction zone.