Sure, there were a couple of questions prior to the Eagles returning to Tulsa's BOK Center Sunday evening.  How would Deacon Frey do filling in for his late father Glenn, and how would Oklahoma's Vince Gill fit in?
The answer to both questions is… just fine.  
When Eagles co-founder Glenn Frey passed away in January 2016, many felt that would signal the end of the iconic band, including the only living original member, drummer Don Henley.  In a 2017 interview with Rolling Stone, Henley was asked if he ever questioned whether it was right for the band to continue without Frey.  Henley admitted he did, and the only way it felt justified to him was to have family blood in the band.  They had to look no further than Frey's son Deacon, and also added country music Hall of Famer Vince Gill to the lineup.
The Tulsa show began with all members on the stage together, proving they can still harmonize quite well on "Seven Bridges Road" and spent the rest of the evening performing one hit after another from their vast music catalog.
Their set was loaded with Joe Walsh hits, including songs from The James Gang, his solo career and his time with the Eagles.  Bassist Timothy B. Schmit sounded as good as ever as he sang lead on "I Can't Tell You Why" and "Love Will Keep Us Alive," while Frey and Gill took turns performing songs formerly sung by Glenn Frey.  On this Father's Day Deacon did his Dad proud as he sang "Take It Easy" and "Take It To The Limit."  Prior to singing "Peaceful Easy Feeling" he told the audience, "I'm having the time of my life."  As the song came to a close, a photograph of a smiling Glenn Frey appeared on a large screen behind the stage.
If you didn't know better, you would swear Vince Gill had been with the Eagles for many years.  He fit in perfectly, especially when his time to sing lead on classic songs like "Tequila Sunrise," "New Kid In Town" and "Lyin' Eyes."  He also treated the near-capacity crowd to vintage Vince Gill as he performed 1992's "Don't Let Our Love Start Slippin' Away."  It was clearly evident that Gill was enjoying himself, even telling the audience it felt good to have his feet back on the red dirt.
Drummer, guitarist and vocalist Don Henley told the crowd early in the show that they would be playing music for two and a half hours "because we can." Addressing the audience once again he said, "we love to play this place.  When you're used to playing stadiums, this place seems downright intimate."
A surprise on this night was when Henley said, "this is something we threw together this afternoon," and the band played "Tulsa Time" in tribute to the late JJ Cale.
The evening came to a close after three encores, two of which featured Henley on lead vocals.  First was their eerie mega-hit "Hotel California," which began with a lengthy trumpet solo, followed by Joe Walsh's "Rocky Mountain Way" and finally, "Desperado."
The Eagles held the first official concert at the BOK Center 10 years ago, and Sunday's show was part of the arena's ongoing "10 for 10" anniversary celebration.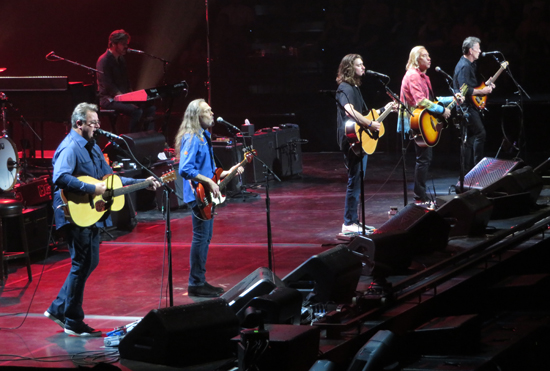 2018 story and photos by William Tessier and Greg Duke, Tulsa Today