Bryan Bennett, chef and manager of the Back Street Food Truck, is the South Central Region Winner in the 2018 Neighborhood to Nation™ Recipe Contest from General Mills Foodservice.
General Mills officials will visit Broken Arrow Wednesday, Aug. 15 to showcase Back Street and celebrate Bennett's award-winning recipe with an event the community is invited to attend.    
To celebrate Bennett's award at noon Back Street's Food Truck will be parked at the Rose District Plaza at 418 South Main Street, Broken Arrow, Oklahoma where:
• Guests will be treated to samples of his award-winning recipe
• Bennett will be presented with an oversized check
• Bennett will also present a check to Soldier's Wish
Bennett's recipe for Sea Salt Caramel Bacon Pecan Pie is the South Central Region Winner in the Neighborhood to Nation Recipe Contest. The mouthwatering pie includes a hefty helping of applewood smoked bacon with classic pecan pie ingredients between two PillsburyTM Frozen Pot Pie Dough Rounds—all topped with a buttery sea salt caramel sauce. "Outstanding" was the most common review when Bennett first served the pie to some local customers, "they loved it!"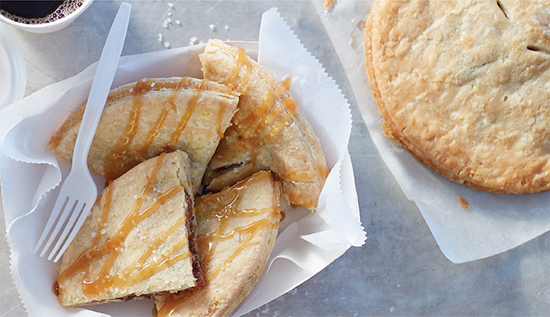 As a Regional Winner in the Neighborhood to Nation Recipe Contest, Bennett wins $5,000 as well as $1,000 to share with a local charity. He has chosen Soldier's Wish, an organization dedicated to identify the unmet needs of U.S. military personnel, veterans and their families and provide the necessary resources to meet those needs.
Bringing the food truck phenomenon to bacon-loving fans across Oklahoma, Bryan Bennett delivers delicious mobile food to festival and fairgoers who enjoy "great food and innovative food creations." The award-winning food truck, specializing in burgers and bacon, launched at the Tulsa State Fair in 2011 and the rest is food truck history.
Bennett got his start in the restaurant and catering industry 20 years ago, launching his first operation in 1995. The food truck's mobile kitchen now allows Back Street to "grill, smoke, bake and fry foods anywhere," serving groups from 30 to 7,000 diners. Back Street offers classic, premium and holiday menus with a focus on smoked and grilled meats, barbeque plates, freshly baked brownies, blondies and more.
Bennett is trained in disaster relief feeding and helped Mercy Chefs feed more than 1,000 people a day during the 2012 West Liberty, Ky. disaster.
As the South Central Region Winner;  Bennett is in the running for a Grand Prize which includes an additional $25,000 in cash, $5,000 for charity and a three-day trip for two to attend the Food Network & Cooking Channel New York City Wine & Food Festival this October. Click here for more.