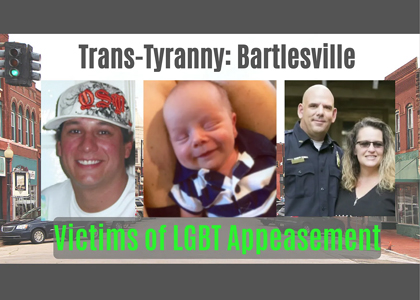 Continuing a series of critical importance in cultural debates worldwide, The V1SUT Vantage today published a detailed report on how LGBT Activism is changing the fabric of Northeastern Oklahoma. This compelling and detailed report reveals how and by whom LGBT Activism "Costs Lives, Crushes Careers & Undermines Safety."
The report notes, "Bartlesville, Oklahoma, is fighting a handful of sex activists from Oklahomans for Equality (OKEQ-Bartlesville) on a number of public issues, including their sponsorship of obscene performances in public. OKEQ's positions are regularly outside of standing law."
"While we typically associate such groups with the Defund the Police movement, Bartlesville is proof that no public agency is off limits to infiltration, including law enforcement. After pressing for policies of appeasement within the hiring process, these actors, once inside, operate with impunity, ignoring protocols based upon law, putting activism before safety, and creating a wake of victims throughout the community, including children," the Substack Oklahoma based writer continues.
With photos, social media posts and official records, V1SUT Vantage details:
The Most Dangerous Police Officer in Bartlesville is OKEQ-Bartlesville Board Member: How Policies of LGBT Appeasement Cause Harm
Through Both Child Welfare & Law Enforcement – Officer Pitts Involved in Multiple Fatal Cases
Pitts Named in Lawsuit – Wrongful Death of an Infant: LGBT Foster Home Allowed to Continue Despite Repeated Reports of Abuse

Baby Xander Cage Bruntmyer Should Never Have Been Placed in the Nelson/Bedard Home
Did LGBT Activism Cost Baby Xander His Life?

Another OKDHS Employee Leads Bartlesville's Push for LGBT Fosters: Questions Linger About Conflicts of Interest in Foster Placement
Police Involved Fatality: Family Sues After Son Shot by Officer Pitts
Officer Pitts Placed on Leave: Accusation Against Fellow Officer Looks Like Lie
OKEQ Orders Custom Police Report from Own Board Member/BPD Officer Jessica Pitts to Silence Opposition to Public Drag Shows
Click here to read the full story. V1SUT is a subscription (both free and paid) email and web based publication widely read by Oklahoma media and elected leaders.
But meanwhile Tulsa is getting national coverage from Black Conservative Perspective: