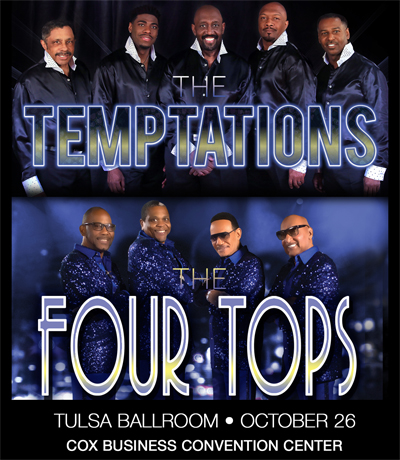 The Temptations & The Four Tops will serenade fans with their soulful sounds Thursday, October 26 at Cox Business Convention Center's Tulsa Ballroom. Tickets go on sale Friday, April 21 at 10AM and will be available online at coxcentertulsa.com.

The Temptations, often referred to as American Music Royalty, are world-renowned superstars of entertainment, revered for their phenomenal catalog of music and prolific career. The group celebrated their 60th Anniversary throughout 2022. To mark this milestone, The Temptations released a brand-new album, Temptations 60, with nearly all-original songs in January of 2022 and, toured in the U.S, as well as abroad to the United Kingdom, France, Germany, Belgium, and the Netherlands, in fall of 2022. Dr. Otis Williams, the sole surviving, original member of The Temptations, turned 81 on October 30 of 2022.
Ranked #1 in Billboard magazine's most recent list of the "Greatest R&B/Hip-Hop Artists of All Time," The Temptations also appear in the magazine's 125th Anniversary list of the "125 Greatest of All Time Artists." In addition, Rolling Stone magazine named the group among the "100 Greatest Artists of All Time." In September of 2020, the editors of Rolling Stone magazine commented that The Temptations are "Indisputably the greatest black vocal group of the Modern Era…," and listed the group's Anthology album among the "500 Greatest Albums of All Time." The Anthology album has appeared in all three of Rolling Stone's 500 Greatest Albums' lists.
The Temptations' heritage, influence and contributions to, not only American culture and African American communities but also to the global music landscape are monumental. The influence that The Temptations had on mainstream and global artists, such as The Beatles, The Rolling Stones, Bob Dylan and others, is undeniable.

The group's popularity is ever-increasing and they are one of the most iconic, bestselling brands in the entertainment world today. While the group has evolved over the years, Dr. Otis Williams has continued to lead the group and carry the torch forward for the next generation of Temptations' fans.
The quartet The Four Tops, originally called the Four Aims, made their first single for Chess in 1956, and spent seven years on the road and in nightclubs, singing pop, blues, Broadway, but mostly jazz—four-part harmony jazz. Their first Motown hit, "Baby I Need Your Loving" in 1964, made them stars and their sixties track record on the label is indispensable to any retrospective of the decade.
The Four Tops songs, soulful and bittersweet, were across-the-board successes. "I Can't Help Myself (Sugar Pie, Honey Bunch)," a no. 1 R&B and Pop smash in 1965, is one of Motown's longest-running chart toppers; it was quickly followed by a longtime favorite, "It's The Same Old Song" (no. 2 R&B/no. 5 pop). Other Tops hits from the decade included "Ask The Lonely," "Shake Me, Wake Me (When It's Over)," "Something About You," "You Keep Running Away," "7-Rooms Of Gloom" and their covers of "Walk Away Renee" and "If I Were A Carpenter."

In 1990, with 24 Top 40 pop hits to their credit, the Four Tops were inducted into the Rock & Roll Hall Of Fame. For Rolling Stone's 2004 article "The Immortals – The Greatest Artists Of All Time," Smokey Robinson remembered: "They were the best in my neighborhood in Detroit when I was growing up (and) the Four Tops will always be one of the biggest and the best groups ever. Their music is forever."
The Temptations & The Four Tops 
WHERE: Cox Business Convention Center – Tulsa Ballroom
WHEN: Thursday, October 26
ON SALE: Friday, April 21 at 10AM
TICKETS: $59.50 – $94.50 (Additional Fees May Apply)