Oklahoma City –- Representative Ryan Martinez, R-Edmond, plans to resign from his legislative seat effective September 1, 2023. He pleaded guilty on August 1 to physical control of a vehicle while intoxicated, a felony. It also known as "non-driving DUI."
Last year, Martinez was charged with control of a vehicle while under the influence of alcohol. He failed a field sobriety test on October 26, 2022, secured release from jail, and was charged with a felony in late December. Martinez had a prior case of driving under the influence in 2014.
The legislator verbally attacked Governor Kevin Stitt in 2022 over Stitt's position concerning tribal court orders. He was a persistent critic of the chief executive officer's position countering efforts by the state's largest tribes to assert control over up to 42 percent of the state.
Martinez verbally attacked the state's chief executive officer over one of his 2022 vetoes, involving legislation supporting tribal court orders impacting the Department of Public Safety. He called the governor – a member of the Cherokee Nation – "racist," having previously derided Stitt over his plans for ARPA funds.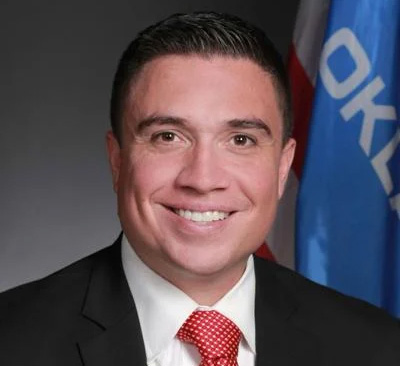 In his resignation statement, sent to The City Sentinel newspaper by legislative staff, Martinez said:
"While I have followed the guidance of my legal counsel and a letter from the Office of the Attorney General, there are differing opinions about whether I should remain in office. My intention has been to resign at the appropriate time to allow a representative to be seated for next year's legislative session.
"With such legal uncertainty, I believe now is that time, so that my neighbors can be represented without distraction. I am therefore resigning my position of state representative for House District 39 effective Sept. 1, 2023.
"I take full responsibility for my mistake and apologize to my family, friends, and constituents who have supported me for the last seven years serving House District 39. I have engaged in court-ordered obligations prior to my plea, and faced my day in court without a conviction. I'm taking accountability for my actions, and making efforts to move forward.
"It has been an honor to serve alongside those who work tirelessly to pass beneficial legislation at the State Capitol, and I hope they will continue standing up against corruption, providing the leadership and vision Oklahomans deserve."
District 39 in the Oklahoma House of Representatives, which he has represented since election in 2016, includes parts of Edmond and Oklahoma City. He has been a power player at the State Capitol, as vice chairman of the House Appropriations and Budget Committee, and a member of both the Government Modernization Committee and the Efficiency and A&B General Government Committee.
Some policy and political context – Republicans clashing on legal issues
Martinez helped steer the legislative redistricting process after the 2020 U.S. Census.
He garnered attention for critical comments about the Oklahoma Tourism and Recreation Department and its oversight of Swadley's Bar-B-Q.
Attorney General Gentner Drummond and former Oklahoma County Assistant District Attorney Gayland Gieger – a close ally of David Prater, a persistent critic of Gov. Stitt — are now investigating Swadley and the Tourism, with grand jury proceedings this week held at Drummond's office in Oklahoma City.
Swadley's has defended its use of taxpayer resources received and the plans it made for an upgrade in tourist facilities, saying "Tourism Department got exactly what it wanted with rapid construction of first-class restaurants during a pandemic."
After Martinez pled guilty in early August in his felony case, Governor Stitt moved quickly to schedule a special election in District 39, saying the Martinez admission meant he needed to vacate his post.
However, A.G. Drummond's deputy had previously said Martinez could remain in the Legislature. (Martinez secured a "deferred" sentence, meaning no jail time, for the felony.)
Drummond and Stitt have disagreed on a variety of issues during and since the 2022 election cycle. Both won their November elections easily. Stitt gained more than 55 percent of the vote against a field of three opponents, including a former Republican who had Big Tribe support for her campaign. Drummond, with Big Tribe support and public support from many Democrats, garnered three-quarters of the statewide vote against one opponent, the Libertarian nominee. In last year's nomination top process, Drummond unseated appointed Attorney General John O'Connor, an ally of the governor's on most issues.