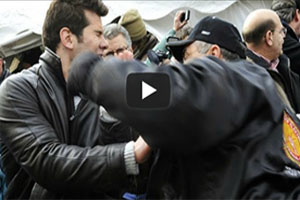 Michelle Malkin writing for www.gopusa.com published today an excellent analysis of union violence in Michigan.
Not so many moons ago, President Obama urged us all to "make sure that we are talking with each other in a way that heals, not a way that wounds." He Who Heals advocated "a more civil and honest public discourse" in the wake of the January 2011 Tucson massacre. As usual, though, the White House has granted Big Labor bullies a permanent waiver from the lofty edicts it issues to everyone else.
This week, menacing union goons unleashed threats, profanity and punches in Michigan, which is now poised to become a "right-to-work" state. Obama met the initial outbreak of violence with the same response he's given to every other union outbreak of violence under his reign: dead silence.
On the floor of the Michigan legislature on Tuesday, Democratic state Rep. Douglas Geiss thundered: "We're going to pass something that will undo 100 years of labor relations, and there will be blood. There will be repercussions!" Geiss referenced the Battle of the Overpass, a violent 1937 incident between the United Auto Workers and corporate security officers for the Ford Motor Company. Dozens of union activists were beaten.
But Geiss wasn't crying victim. This was clearly a signal to the brass-knuckled Big Labor bosses, whom Obama egged on during his Monday visit to the state. Obama inveighed against right to work with his usual class warfare dog-whistle. The thugs heard it loud and clear.
As the Michigan House voted inside to approve right-to-work legislation allowing workers to choose whether or not to join/fund unions as a condition of employment, protesters outside the state Capitol ambushed a tented information booth sponsored by the pro-right-to-work state chapter of Americans for Prosperity. Angry union mobsters were filmed cursing and screaming just before the attack.
One hurled an unidentified object at police officers. Another screamed at a citizen journalist filming the chaos: "Freedom of speech this, you f'n fascist a**hole!" Several peaceful AFP members and supporters were stomped on and punched while trapped under the tent as the labor operatives chanted: "This is what democracy looks like." Young Michigan conservative activist and YouTube entrepreneur Steven Crowder was beaten by at least two union assailants while trying to protect the tent and those inside.