The most significant musical talent in Oklahoma history, JJ Cale died at 8 p.m. Friday July 26, 2013 at Scripps Hospital in La Jolla, California.  Born in Oklahoma City on Dec. 5, 1938, Cale grew up in Tulsa and graduated from Tulsa Central High School in 1956.
Johnny Cale saw himself primarily as a guitarist in the beginning. He sat at home listening to records figuring out difficult guitar licks and doing what you have to do to play an instrument – practice.  You play those patterns over and over and over until you're sick of them and then your fingers start remembering on their own.
Gene Crose is credited with coaxing a reluctant Cale onto a stage. Cale didn't think he was ready, but Crose had an ear for talent – little did he know what he would set in motion.
In those early days of Rock And Roll, big band swing was still popular, so players had to know some of that old stuff as well as the newer tunes that appealed to the younger audience. Cale knew more about music than was ever readily apparent.
When Bobby Taylor quit his band, The Valentines,  guitarist Johnny Cale became the singer and band leader.  He didn't think of himself as a singer so the band played lots of instrumentals.  One song he wrote "Purple Onion" became a single and a popular brain teaser for a lot of guitarists.  Mike Bruce said he spent a lot of time figuring out those licks.
Leon Russell had taken the big leap of faith and made quite a name for himself in Los Angeles as a session man and producer.  He also utilized the talents of many Tulsans, such as Tommy Tripplehorn, Carl Radle, Jimmy Karstein, Larry Bell, and Jim Keltner.  Cale came into this enclave and began working as an engineer under the tutelage of Leon and the great Bones Howe.  A recently discovered 1979 video recording of a Cale/Russell session follows.
One project was a collection of psychedelic covers entitled "A Trip Down Sunset Strip" by The Leather Coated Minds.  Cale said it was, "Pretty awful – fortunately they didn't press many of them."  But Cale liked some of the psychedelic bands because they were getting new sounds out of guitars.
Cale also wrote some songs.  One was a novelty tune, "Dick Tracy" that had funky syncopation and a lick lifted from the "Dragnet" Theme. He released a couple of singles on Liberty, the label that featured Garry Lewis.
Born John Weldon Cale, while in L.A. he pitched a gig at The Whisky Au Go Go, but the owner had enough of Johnny Rivers and there was also John Cale with The Velvet Underground so the owner asked if he could book him as "JJ."
Cale said, "You can call me whatever you like if we can have the job."
He later cycled back to Tulsa and scuffled for gigs playing lead with Don White's band for a while, but in 1970 his life changed. Delaney Bramlett played Cale's B-side "After Midnight" for Eric Clapton.  Clapton recorded it and it became his first hit as a solo artist.  Cale was reportedly playing at the Speedway Lounge on Tulsa's east side for $25 a night when he first heard his song on the radio.  In those days, royalty checks went out quarterly and he had to wait three months before he saw any money.
"Success determines what you are," Cale once noted.  So the guitarist turned singer and engineer then defined himself as a songwriter.  His first solo album was recorded on a shoestring, with electric drums on several tracks.  Much of it was done on a four track recorder he carried around with him.  It took Cale a while to come up with enough songs – in those days.
Many of Cale's songs have been covered by other musicians.  Clapton made two hits of "Cocaine."  Lynyrd Skynyrd moved a lot of units of "They Call me The Breeze" which was fired up by "Okie" Steve Gaines' guitar work.  Poco had chart action with the ballad "Magnolia".
One story has it that Cale called his bank one day and asked if he had a million dollars yet. "Yes, Mr. Cale, you do," they answered.  He asked if he could see it.  They probably had to request that much cash from the Federal Reserve, but they set it out in the vault.  There was a phone there and Cale, it's asserted, called some friends to say that he was looking at his first million.
The story sounds uncharacteristic.  Even though Cale was, by then, set for life, for years he lived in an Airstream Trailer in a park across from Disneyland.  Cale indulged himself with some nice guitars and recording gear, but he kept life as simple as his music.  Many of his neighbors even to the end of his days thought he was a truck driver.  It's a bit of Okie humor.  If you didn't know – he would more likely joke about it than make himself a big deal.  In other words, Cale undersold and over delivered musical history.
That guitar on Cale's first album was a cheap acoustic Harmony Sovereign shown in the photo on the right and played in the 1979 video with Leon Russell above.  He liked the neck and the tone of that particular tool and at one time he had as many as five pickups attached.  The back was broken in San Francisco, but no local luthier had a back that would fit.  Cale put a turnbuckle inside to brace it up and also inadvertently solved the feedback problem.  As a sound engineer, he would alter equipment on a whim and experiment.  Though Cale had some priceless guitars, he played a $200 Danelectro at his last Cain's gig.
After Steve Munson died, The Sunset Grill staged a tribute/benefit in 1991. It was arranged so Cale could stop by during one of his tours.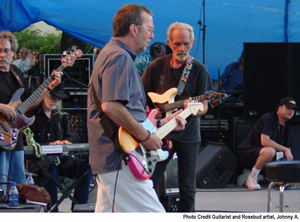 The stage was packed. Some of the players were his friends, but it's a safe bet that some were crowded on there so they could later say "I played with J.J. Cale." There were two keyboards, two drum sets, probably two basses and four maybe six guitars. It was a blur and Cale had the look of a horse being led from a burning barn. The sound man was probably on the brink of hysteria trying to clarify the mush.
But then Tommy Crook and Mike Bruce got up on stage, flanking Cale. Here were Tulsa's 3 best guitarists ever; old friends, to boot. The sidemen graciously backed off and Crook ran down a little five-chord progression, which they quickly picked up. Then he started playing a melody over that; a kind of bluegrass/jazz thing of 16th notes. Cale and Bruce started playing harmony with him! It was astounding. I for one never knew Cale was that adroit, but obviously he could really pour on the coals when goaded by his old buds.
I asked Crook what the song was. "I just made it up on the spot," Crook said.
It was paranormal; the greatest moment in Tulsa music I've ever seen and heard.
Cale was a true minimalist, which is what makes his music so penetrating.  Less is more.  He's had only one hit, and he didn't even play lead on it.  He's a songwriter first, and that made him rich.  His sparse but melodic guitar work has greatly influenced many more famous players.
Cale's tone is in his fingers.  The term 'laid back' was invented for him.  He was a warm, but very private man who shunned fame.  Only music fanatics know his name, though millions know "After Midnight", "They Call Me The Breeze", "Magnolia", and "Cocaine" which many including Eric Clapton note is a warning to avoid, not glorify, addiction to a sad chemical.
In 2004 at what would be Cale's last performance in "Tulsa's Timeless Honky-Tonk" Cain's Ballroom jammed with old hippies and young music lovers.  Cale began alone, singing and using some jazz chords.  Then he said quietly, "Thank You, Tulsa."  The crowd raised the roof for him in admiration of his talent and appreciation of his loyalty to his friends and the city.
With "Memphis Blues" he brought out his road band one by one: Bill Raffensperger, Jimmy Karstein, Rocky Frisco, and Christine Lakeland.  Each received great applause.
It must be said that the sound should've been clearer. At the time, it is this working musician's opinion that Cain's needs an acoustic diagnosis and maybe some bigger horns.
The chattering crowd quieted when Lakeland did one of her songs; she has a lovely voice.  After an easygoing hour, the longest set yet on this two month tour, he brought up some old friends: Walt Richmond, Johnny Williams, Don White, Bill Kinner, Junior Markham and Dudley Murphy. Destiny also played.
The big group launched into "Cajun Moon", "Lies" and "Breeze", with plenty of solos.  There was "Cocaine" and a slowed version of "Bringing It Back".  After two full hours, they finally left the stage, but the hometown crowd would have none of that.  The encores went on for another thirty minutes.  It was obvious Cale and friends were having a great time.  Few, if any, left early.
Neil Young has been quoted considering Cale, along with Jimi Hendrix, to be the best electric guitar players ever.
Clapton said in his autobiography: "It is my humble opinion, [Cale] is one of the most important artists in the history of rock, quietly representing the greatest asset his country has ever had." 
Cale's album with Clapton, "The Road to Escondido," won a Grammy for Best Contemporary Blues Album in 2007.
Success is the death of some people. Terrence Howard said "Fame and fortune don't change a man.  They unmask him. When you have no one to answer to, your real self comes out."
Cale never did have a mask.  He tried not to be famous and, though he was very fortunate, he put integrity first; in his music and the simple way he lived his life.  Cale didn't brag; he was just the best at what he did.  He was Okie through and through and a music legend that never claimed what was, by all rights, Cale's style – what others called the Tulsa Sound.
Additional video:
JJ Cale, Eric Clapton (After Midnight & Call me the Breeze)