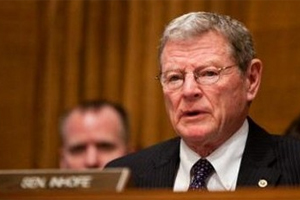 WASHINGTON, D.C. – U.S. Sen. Jim Inhofe (R-Okla.), Ranking Member of the Senate Armed Services Committee (SASC), Thursday released the following statement after the Senate passed the Fiscal Year 2014 National Defense Authorization Act (NDAA) by a vote of 84 to 15. The bill includes important provisions that were either authored or supported by Inhofe and will benefit Oklahoma's service members, civilian employees, veterans, and military installations.
"I am proud to announce that for the 52nd year, Congress has passed with strong bipartisan support the National Defense Authorization Act," Inhofe said.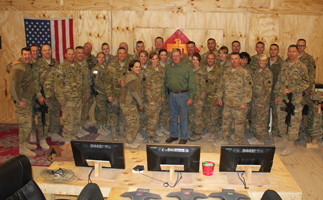 "Though this bill should have been considered earlier and under regular order in the Senate, we were able to address the interests of many members by adopting 79 Senate amendments that made the final bill even better.
"Our constitutional duty in Congress is to provide for the nation's defense and this year's NDAA contains many provisions that fulfill this solemn responsibility. It supports the well-being of our men and women in uniform and their families and strengthens congressional oversight of the President and the Defense of Department. It contains provisions that benefit the military and civilian personnel serving in Oklahoma who play a crucial role in our national security. It was an honor working with my colleague Chairman Levin to ensure that the needs of our men and women in uniform are met and that our military operates efficiently and effectively when defending our nation," Inhofe said
What Is In It For Oklahoma:
Protecting Religious Freedom of Military Men and Women
Due to reports of religious persecution within the U.S. military, Sen. Inhofe supported the inclusion of language in this year's NDAA which would enhance the protection of rights of conscience of the members of the armed forces and chaplains by making it explicit in law that not only beliefs must be protected but expressions of beliefs as well. The agreement also includes a provision that would require the Secretary of Defense to conduct a survey of military chaplains to assess whether restrictions placed on prayers offered in public or non-religious settings have prevented them from exercising the tenets of their faith, and whether those restrictions have impacted their ability to fulfill their duties to minister to our men and women in uniform and their families.
Abortions in Department of Defense Medical Treatment Facilities
Sen. Inhofe does not support the use of tax dollars for abortions and supported striking language that would have authorized privately funded elective abortions in military medical facilities.
"Senator Inhofe has led the way in protecting the rights of service members to freely practice and express their faith. His leadership on the Defense Authorization Act is vital to putting an end to the chilling suppression of religious freedom that is driving faith underground in our military. I also applaud his continued commitment to protecting unborn children and their mothers. American families can also thank Senator Inhofe for his work to ensure that they aren't forced to pay for abortion on demand," said Family Research Council President Tony Perkins.
National Guard Counter Drug Program
The drastic funding cuts to the National Guard Counter Drug program (CDP) have made it difficult to efficiently and effectively maintain operations. The CDP plays an important role in providing military-specific capabilities and expertise within the National Guard in order to support the counter drug activities of federal, state, and local authorities. Sen. Inhofe included language that emphasizes the importance of the National Guard CDP and encourages the Department of Defense to continue to support and provide funding that would ensure the National Guard, to include the Oklahoma National Guard, is able to sustain its CDP operations.
"NGAUS thanks Senator Inhofe for his strong leadership and continued support of NGAUS. We are grateful for his efforts to ensure that the Department of Defense remains committed to the National Guard's counterdrug program which includes successful drug interdiction and border security efforts to local, state and federal law enforcement," added the National Guard Association of the United States.
U.N. Arms Trade Treaty
Sen. Inhofe supported a provision that prohibits the Department of Defense from using any funds to implement the U.N. Arms Trade Treaty. The bill language protects against possible infringement on Constitutional rights while still allowing the United States to help our friends and allies build controls that will keep terrorists from obtaining weapons.
Meteorological and Weather Analysis Capabilities and Training Requirements of the Air Force
Sen. Inhofe included report language urging the Air Force Weather Agency to focus modernization efforts on those capabilities required to collect, analyze, predict, tailor, and integrate accurate, timely, and relevant weather data for the warfighter. This language would allow groups and universities such as the University of Oklahoma to assist the Air Force in creating modernized meteorological and weather analysis training programs that will improve our warfighting capabilities.
"OU is encouraged by the language creating a Meteorological and Weather Analysis Training Program," said Berrien Moore, OU vice president for Weather and Climate Programs and director, the National Weather Center.
Civil Air Patrol
Sen. Inhofe included language that would require the Secretary of the Air Force to produce a report on the Civil Air Patrol (CAP) to assess certain aspects of the current CAP aircraft program to include fleet size, mission requirements and operating locations in order to address the drastic cuts to the program. This language will allow the Oklahoma Civil Air Patrol to ensure it has adequate resources to carry out its operations to include search and rescue, counterdrug, disaster relief, humanitarian services, and support to the Air Force.
"Oklahoma has a rich aviation history and large aviation industry," said Joe Cavett, Commander of the Oklahoma Wing, Civil Air Patrol. "We are fortunate to have Senator Inhofe in Washington defending the interests of our state and general aviation across the nation."
Small Business 8(a) Contractors
Section 811 of the NDAA FY2010 required the Department of Defense contracting officers to provide a Justification and Approval (J&A) to obtain approval by the head of the agency before awarding sole-source contracts over $20 million. This provision resulted in negative impacts to Small Business 8(a) contractors. Sen. Inhofe worked with Sen. Hirono to include report language that would clarify that Section 811 is not a cap to sole source procurement of less than $20 million, to include Native American contractors, and directed the Department of Defense and the Federal Acquisition Regulation Council to issue guidance regarding the proper use and implementation of Section 811. Additionally, the report requires that within 90 days of enactment of the NDAA, the Secretary of Defense must submit a report to the congressional defense committees on the actions taken and guidance issued regarding proper use and implementation of Section 811.
The Native American Contractors Association added, "The Native American Contractors Association appreciates Senator Inhofe's continued leadership to support the Native 8(a) program. The program is an example of successful federal Indian policy, and is vitally important to the growth and self-determination of Native communities. Indian Country is grateful for Senator Inhofe's steadfast leadership on Native issues and concerns."
Troops-to-Teachers
The drawdown in Afghanistan and current personnel reductions of the Armed Forces will force more of our service members into the job market. The Troops-to-Teachers program would assist returning service members and veterans transition into the teaching profession. The language by Sen. Inhofe urges the Secretary of Defense to report on the program and include an evaluation of whether: there is a need to broaden eligibility to allow service members and veterans without a bachelor's degree admission into the program, and stipulates that a pilot program should be established to demonstrate the benefit of an institutional based award for troops to teachers.
"The University of Central Oklahoma applauds Senator Inhofe for his national leadership on the Troops to Teachers initiative," said President of the University of Central Oklahoma Don Betz. "This meshes so well between the needs of veterans, their spouses, children, and America's and Oklahoma's demands for more teachers. Veterans and their families have demonstrated their exceptional commitment to placing the needs of others before themselves through their steadfast dedication to public service. This makes them ideal candidates to serve as teachers, mentors and role models to young people.
"As Oklahoma's first 'Normal School' founded in 1890 to train teachers, with the historical lens to appreciate the value that active duty military and veterans brought to our campus and community during and after the World Wars, Korea and Vietnam, we are supremely confident that our veterans and their families, as well as society, will be mutual beneficiaries of the expansion of this model project initiative to undergraduate teacher education"
Training Systems for Major Ground and Airborne Vehicle Systems
This training system competition provision greatly expands the number of companies that can compete for major ground and airborne vehicle training efforts, providing reduced cost, greater innovation, and a reduced schedule. Championed by Sen. Inhofe, this report language directly supports the April 24th directive from Under Secretary of Defense for Acquisition, Technology & Logistics Frank Kendall that states: "A competitive environment is DOD's most effective tool to motivate industry to deliver cost effective solutions for the Department." The provision will ensure open competition for sustainment of our training systems, reducing costs and opening up opportunities for local businesses to compete in providing our nation's warriors with the best and most cost effective simulation systems available.
Paladin Integrated Management Program
The Army requested that Congress move funding from procurement to Research and Development accounts to mitigate risk to Fiscal Year 2014 testing of the Paladin Integrated Management (PIM) program. The Army intends to hold to the program's current schedule which is especially important because PIM will be integrated in Elgin, Okla. Sen. Inhofe fully supports the program and expects the Army to continue to review the development schedule for other ways to accelerate the program while retaining cost and schedule. The PIM report language expresses congressional support for the program and recommends approval for the budget request of $219.5 million for the procurement of 18 PIM, and $121.3 million for Research, Development, Training and Education, totaling $340 million.
"BAE Systems is extremely pleased that Sen. Inhofe and the Senate Armed Services committee have expressed their support for the Paladin Integrated Management (PIM) program. As one of the U.S. Army's priority programs, PIM is a vital technology enhancement program that maintains the combat capability of the Armored Brigade Combat Team (ABCT). The PIM program has demonstrated all performance requirements through rigorous developmental and operational testing, and is now ready to move into production. This continued support for the PIM program helps to ensure that our Soldiers have the most advanced howitzer in the M109 family to provide timely, accurate and responsive fire support for the ABCT," said Erwin Bieber, President, BAE Systems Inc., Land and Armaments.
Jobs For Our Veterans
Of the 21.2 million veterans in this country, 7.6% of them are unemployed. Sen. Inhofe supported report language that emphasizes the necessary improvement of management and oversight by the Departments of Defense and Labor associated with the veteran unemployment compensation program and payments. In addition, there are numerous redundant websites and portals managed by federal agencies to provide employment services to veterans. This provision stresses the importance of a single portal for veterans to find jobs and employers to post jobs by streamlining the existing employment portals into a consolidated portal. Of those unemployed veterans, 25,000 are in Oklahoma. This provision will provide an effective solution to help Oklahoma's and the nation's unemployed veterans.
Veteran Assistance in Private Employment
Sen. Inhofe included language expressing the importance that private employers do their utmost to educate and inform their managers and supervisors on the advantages of hiring qualified veterans who have service-connected permanent total disabilities, as well as qualified surviving spouses of service members killed in action.
Mike Cooper, Vice President and President-Elect of the Association of Defense Communities said, "As representing military communities from across the nation, we recognize and understand, as Senator Inhofe does, that the most important thing we can do for our nation's warfighters and veterans as they return from over 12 years of war is to get them back to work as quickly as possible. Nothing does more to allow our military veterans to get back to a normal way of life than to have a job; we thank Senator Inhofe for always being there to recognize the needs of our nation's veterans and their families that have sacrificed so much for all of us."
C-130H Aircraft
Sen. Inhofe strongly supports modernization of the legacy fleet of C-130H aircraft, including avionics and engine modernization. The included language requires the Comptroller General to review the recently complete cost-benefit analysis on avionics modernization, including any findings and recommendations relating to the review. The agreement also included language recommending an increase of $47.3 million for Research, Development, Test, and Evaluation for C-130 Airlift Squadrons, pending the completion of the review. This would allow companies such as Boeing in Oklahoma City to ensure an operational capability of the C-130H fleet.
War Readiness Engine
The Air Force currently faces a shortfall of useable engines for the F-15 and F-16 fleets as compared to the War Readiness Engine (WRE) objective. Due to the Air Force's continued reliance on these fighter jets well into the foreseeable future, it is imperative to maintain the readiness of these fleets. Therefore, Sen. Inhofe supported report language that urges the Secretary of the Air Force to include sufficient resources for engines in order to avoid degrading readiness. This would allow installations repairing and maintaining these engines, such as Tinker Air Force Base, to have the resources required to eliminate the shortfall of these engines.
F-35 Production Rate
Sen. Inhofe strongly supported language in the bill that calls for increasing the production rate of the all three variants of the F-35(Air Force, Navy and Marine Corps), establishing an independent team to review the development of software for the F-35 aircraft, and requiring the Under Secretary of Defense for Acquisition, Technology, and Logistics (USD (AT&L)) to provide a plan for the sustainment of the Autonomous Logistics Information System for the F-35. The program is achieving schedule milestones, continuing progress on test and development schedule, and has seen significant cost reductions over the past year to include a decrease of $4.5 billion in total program cost and $4.4 million in average cost per aircraft in 2012. The program has also seen a 30 percent decrease in concurrency costs and a 40 percent saving in engine production costs. While there are software development timeline concerns with Block 3F, Sen. Inhofe believes it is time to begin accelerating production of all versions of the F-35.
Maintaining and Sustaining our Bomber Force
Sen. Inhofe worked to include language in several parts of this bill that authorizes continued modernization and development of our bomber fleets to include the B-1 and B-52. It also authorizes Long Range Strike design and development, as well as recommending the continued prioritization of the development and acquisition of the Long-Range Strike Bomber Program. Bombers continue to be critical to our national defense and Tinker Air Force Base provides the vital depot work to sustain the B-1 and B-52 bombers, as well as the engineering support on the B-2 bomber. Additionally, the bill prohibits the elimination of any leg of the nuclear triad: intercontinental ballistic missiles, submarine-launched ballistic missiles, and nuclear-certified strategic bombers.
U.S. Naval Sea Cadet Corps Program
The Sea Cadets is a nonprofit organization created in 1958 at the request of the former Chief of Naval Operations, Admiral Burke, and focuses on the development of youth, training over 150,000 young Americans since its creation. This program promotes interest and skill in seamanship and aviation, while instilling qualities that mold strong moral character. Unfortunately, this program was underfunded by $1 million in Fiscal Year 2014, negatively impacting all aspects of the program. Sen. Inhofe secured report language introduced by Sen. Saxby Chambliss (R- Ga.) that expressed the Sense of the Senate that the Secretary of the Navy should fully fund the program at $1.7 million, consistent with the level it has been funded at for the past 8 years.
"The U.S. Naval Sea Cadet Corps has a rich heritage in developing the values of good citizenship and strong moral principles of our nation's youth," said Capt James Monahan, U.S. Naval Sea Cadet Corps Executive Director. "Through our training programs, cadets learn lessons that will serve them well throughout their adult lives, either as Sailors or civilians. Full program funding guarantees the best possible educational and training opportunities for more than 9,000 Cadets nationwide. We are excited about what this means for our program, for our Cadets and for the future of our Navy. We sincerely thank Senator Inhofe and his staff for their diligent support of the Sea Cadets."
Autism Spectrum Disorder Services
Sen. Inhofe secured Sen. Chambliss' report language commending the Department of Defense's continued efforts to ensure military families have access to the appropriate autism spectrum disorder services, intervention, and treatment services. The continued assistance of these services is vital to the military families of Oklahoma and the nation.
Education & Training of TRICARE Management Activity
The Department of Defense Inspector General audit of May 1, 2013 found that acquisition personnel of the TRICARE Management Activity (TMA) "did not have required certifications for their functional areas, accurate position descriptions for their assigned duties, or proper training." Therefore, Sen. Inhofe included report language that states that the Senate Armed Services Committee believes the Department of Defense must ensure that the TMA's acquisition management process meets workforce training and certification requirements, and requires a report on these matters. This improvement will benefit the military service members of Oklahoma as they utilize TRICARE for their health care services.
Military Child Custody
Sen. Inhofe supported incorporating language that declares that state courts should not consider military deployment, whether past, present, or future, as the sole factor in determining custody of a child.
United States Security Assistance Strategies in Africa
Sen. Inhofe supported three provisions that would direct the Secretary of Defense to develop a strategic framework for U.S counterterrorism assistance and cooperation in North Africa, properly resource our U.S. Africa Command (AFRICOM) and provide military-to-military assistance to Somalia, the Trans-Sahara Counter Terrorism Partnership, Operation Enduring Freedom-Trans Sahara, and increased cooperation with the Somali National Security Forces to confront international security threats. The agreement requires an interagency strategy that supports recent security and political gains in Somalia, a classified intelligence assessment of al Shabbab, and designate an existing senior US Government official with existing interagency authority for export policy for Africa to coordinate among US agencies. Additionally, with the increase in number of armed robbery at sea and piracy attacks in the Gulf of Guinea, the Secretary of Defense is required to brief the congressional defense committees on DOD strategy to combat
these maritime threats. Lastly, the agreement included a provision addressing the importance of bringing to justice those individuals who committed or aided in the commission of the September 11, 2012 terrorist attack on the American facility in Benghazi, Libya.
Support of Foreign Forces Participating in Operations to Disarm the Lord's Resistance Army
Sen. Inhofe included a provision that would authorize the Department of Defense to obligate up to $50 million annually to provide logistical support to the national military forces of Uganda and other partners nations to mitigate or eliminate the threat posed by the Lord's Resistance Army (LRA) and bring an end to the 20-year murderous campaign of LRA leader Joseph Kony, who has killed thousands, displaced over 1 million and kidnapped more than 30,000 children – turning them into child soldiers. Sen. Inhofe has worked for many years in partnership with organizations like Invisible Children and Resolve who remain dedicated to the end of Joseph Kony and his LRA's reign of terror in eastern Congo and Central Africa.
Michael Poffenberger with The Resolve organization said, "Ongoing US support for efforts to stop Joseph Kony's crimes against civilians has helped fracture the LRA, nab one of Kony's top deputies, and reduced the LRA's destabilizing attacks. The funds in this year's defense authorization bill championed by Senator Inhofe will ensure this progress continues, so that this human rights crisis can finally be ended."
Impact Aid
Sen. Inhofe was successful in ensuring language was included in this bill that authorizes $25 million to supplemental Impact Aid to local education agencies with military dependent children. The bill also includes an additional $5 million for schools with military children with severe disabilities.
Department of Defense STARBASE Program
STARBASE is a Department of Defense program that focuses on elementary students who live in inner cities or rural locations, those who are socio-economically disadvantaged, low in academic performance or have a disability are in the target group. The program, run by our service men and women, helps raise interest in critical skills such as science, technology, engineering, and math (STEM). Teamwork is stressed as our military mentors work together with each student to explore, explain, elaborate and evaluate concepts. Sen. Inhofe supported restoring the funding in the amount of $21.7 million. Over 500,000 students have participated in STARBASE to include youth from all around the great State of Oklahoma.
Hyperbaric Oxygen Therapy for Traumatic Brain Injury
The Department of Defense is currently conducting pilot studies to determine the effectiveness of hyperbaric oxygen therapy for the treatment of Traumatic Brain Injury (TBI). Sen. Inhofe included report language directing the Secretary of Defense to provide a report within 180 days of the completion of the pilot program to help direct policy changes for hyperbaric therapy to patients if the pilot studies show hyperbaric oxygen therapy to be effective.
"I thank Senator Inhofe for stepping out ahead to try and take care of the young men and women who return to us with Traumatic Brain Injury (TBI). We know that TBI can lead to so many other issues, such as post-traumatic stress disorder and incarceration for inappropriate behavior. Hyperbaric Oxygen Therapy (HBOT) is one of the very few in treatments available for these soldiers returning from stressful and life changing events overseas. In Oklahoma, we have over 17,000 patients suffering from TBI. This provision will be crucial to help them return to a normal state," State of Oklahoma Secretary of Military and Veterans Affairs, U.S. Air National Guard Major General (Ret.) Rita A. Aragon
Transportation of Hazardous Materials on Oklahoma Roads
The Comptroller General of the United States is in the process of conducting a comprehensive review of the policies and procedures by the Department of Defense in the handling of hazardous material shipments, including the review of Transportation Protective Services (TPS) safety standards for commercial surface carriers transporting dangerous or sensitive cargo on public highways within the United States. In order to ensure that hazardous materials travelling on Oklahoma roads do not pose a health hazard during this review, Sen. Inhofe successfully included a provision that directs the Secretary of Defense to ensure that commercial TPS carrier safety performance standards measured by the Compliance, Safety Accountability (CSA) Safety Measurement System (SMS) are not altered to less stringent safety standards during the duration of this Government Accountability Office (GAO) review.
Mental Health Counselors
Years of combat operations have taken their toll on the mental health of our active, Guard, and Reserve service members. To ensure adequate mental health counseling resources are available, Sen. Inhofe included report language directing the Secretary of Defense and the Secretary of Veterans Affairs to provide a joint report that describes a coordinated, unified plan to ensure adequate resources to meet the needs of our military members and their families. The plan and report will consider all available types of trained counseling providers including psychiatrists, psychologists, social workers, chaplains, and other counseling professionals who will be available to address these long-term needs.
"The National Board for Certified Counselors applauds the Sen. Inhofe for his commitment to ensuring a robust mental health workforce for our Service members and their families. The increase in mental health and addiction problems among our military personnel and the strains on their families are a public tragedy and they are exacerbated by a provider shortage. Requiring the Departments of Defense and Veteran Affairs to establish a workforce plan for mental health counseling is a critical step to ensuring these military heroes obtain the care that they deserve. Mental health counselors, who comprise 25% of the behavioral health workforce, stand ready to help these departments meet their needs," –The National Board for Certified Counselors.
Department of Defense Support to Air Shows
As a result of sequestration, the Department of Defense prohibited all aerial demonstrations, including flyovers, jump team demonstrations, and participation in civilian air shows and military open houses. Sen. Inhofe strongly opposes a blanket prohibition on military participation and feels that the decision from the Defense Department has had a negative impact on military recruiting and our state and local economies. Sen. Inhofe supported bill language that would prohibit spending of funds for performances of flight demonstration teams outside the United States if the Department has cancelled any performances of flight demonstration teams inside the United States by reason of insufficient funds due to sequestration. This provision covers the Air Force Thunderbirds, the Navy Blue Angels and the Army Golden Knights.
"Air shows in the United States have a $1.5 billion economic impact on the communities in which the events are held. That impact has been significantly reduced this year by this blanket prohibition on the U.S. military's participation in local air shows," said John Cudahy, president of the International Council of Air Shows. "Senator Inhofe's initiative will come as a great relief to the hundreds of communities that benefit – both economically and in many other ways – by having air shows in their area. Needless damage was being done to our industry and it's encouraging to see our elected leaders taking pro-active steps to correct this problem."
Missile Defense
Since entering office, President Obama has curtailed development and has cut funding for the Ground-based midcourse defense system, the only missile defense system capable of protecting the homeland against long-range missile threats from countries such as Iran and North Korea. Sen. Inhofe believes the development and deployment of a new kill vehicle for the ground-based interceptor is necessary to keep pace with the growing threat and should therefore be a top priority. This bill includes $210 million in additional funding to improve and modernize the GMD system for the protection of the United States.
Admiral Syring, the Director of the Missile Defense Agency, has testified that "sensor capability cannot be understated in terms of the benefit it will bring the warfighter," and that "an X-band radar anywhere east would greatly benefit the threat that we in the agency see coming."
Cyber Security
Sen. Inhofe was able to include three provisions regarding cyber security. They include requiring the Secretary of Defense to provide a report on the capability of each military service to operate in a hostile cyber environment and directing the National Security Agency to examine the problem of detecting and remediating vulnerabilities in the software that controls the power for mobile devices. Every critical system from ground vehicle electronic systems and next generation aircraft to satellites and missile defense systems must be assessed to ensure that critical warfighting capabilities are not undermined. Understanding our cyber capabilities and deficiencies will enable the Department of Defense to improve its offensive and defensive cyber capabilities. The bill also contains a provision which preserves the designation of National Centers of Academic Excellence in Information Assurance Education. Institutions and universities such as the University of Tulsa Institute for Information Security will play a k
ey role in assisting the Department of Defense and its services advance their cyber security programs.
President Steadman Upham, University of Tulsa said, "TU faculty and students are committed to the development of cutting-edge cyber security that improves the safety of all Americans. We are pleased to learn of Senator Inhofe's leadership and support along with the prospect of new funding for cyber defense research. Advancement of this legislation will provide our research teams with the critical resources needed to protect Americans from threatening cyber attacks."
Military Construction
The 2014 National Defense Authorization Act authorizes over $100 million for military construction (MILCON) projects in Oklahoma. Tinker Air Force Base will receive nearly $71 million from Air Force, Air Force Reserve, Navy, and Defense Agency accounts, for construction and maintenance of hangars, fuel distribution facilities, and squadron operations. The beddown of the next generation air refueling tanker, KC-46A, Formal Training Unit (FTU) based at Altus Air Force Base will bring $33 million for facilities maintenance and construction projects to the region.
– Altus AFB Replace Refueler Parking ————————————-$2,100,000
– Altus AFB KC-46A FTU ADAL Fuel Systems Maintenance Dock—-$3,350,000
– Altus AFB KC-46A FTU ADAL Squad Ops/AMU ————————-$7,400,000
– Altus AFB KC-46A FTU Flight Training Center Simulators Phase 1–$12,600,000
– Altus AFB KC-46A FTU Fuselage Trainer Phase 1 ———————–$6,300,000
– Altus AFB KC-46A FTU Renovate Facility ———————————-$1,200,000
– Tinker AFB Replace Fuel Distribution Facilities —————————$36,000,000
– Tinker AFB KC-46A Land Acquisition —————————————$8,600,000
– Tinker AFB TACAMO E-6B Hangar —————————————–$14,144,000
– Tinker AFB Air Control Group Squadron Operations ——————–$12,200,000