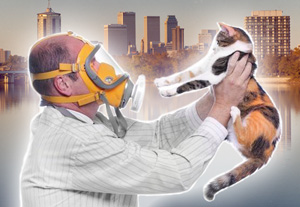 For people with allergies, the special pet-owner relationship is complicated by the irritating symptoms owners often endure. For people who don't find sufficient relief, or are burdened by existing treatment options, some ultimately make the emotionally painful decision to give up their cats, depriving themselves and family of companionship with their adored pets. A new study at BreatheAmerica Tulsa is evaluating a different approach.

The record cold temperatures hitting North America this winter is not making life any easier for people allergic to their pets. As many find themselves stuck indoors for long periods of time; allergies can intensify symptoms like sneezing, coughing, itchy eyes, and runny or blocked nose. It is estimated that one-quarter of the population may suffer from cat allergy, a common and year-long condition in which exposure to cat allergens such as dander (shedding skin cells) provoke unpleasant and often disruptive symptoms.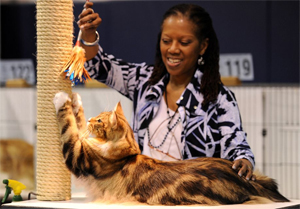 BreatheAmerica Tulsa is one of 77 sites across the U.S. and Canada currently seeking eligible volunteers for a major clinical research study evaluating an investigational cat allergy medicine to determine whether it can help reduce symptoms for a sustained period with a relatively short course of treatment.
The CATALYST study (www.thecatallergystudy.com) is a Phase 3 clinical research study, meaning that the investigational medicine has been found in previous, smaller studies to be sufficiently safe and well-tolerated in people suffering from cat allergy to justify a larger study.
Many people with cat allergies try managing their symptoms with prescription and over-the-counter medicines, including antihistamines, nasal corticosteroids, and decongestants. Sufferers with moderate to severe cat allergy may undergo a series of allergy shots, also known as allergen immunotherapy, which works by trying to teach the immune system to tolerate cat allergens rather than fight them. Allergen immunotherapy typically begins with once- or twice-weekly injections for several months and gradually tapers in frequency to once monthly, but for as long as 3-5 years. Unfortunately, currently available treatment options are associated with poor patient compliance and the potential for side-effects.
The CATALYST study is designed to evaluate a different approach to allergen immunotherapy to determine whether the investigational medicine can provide sustained allergen tolerance and corresponding symptom relief over an extended period with only four or eight doses of immunotherapy.
To potentially qualify for the CATALYST Study, participants must be between the ages of 12 and 65, have a cat at home, and have been diagnosed with cat allergy for at least two years. Participation does not require insurance, and participants will receive all study exams and medication at no cost. Compensation for time and travel may also be provided. Local residents who want to explore eligibility should call 844-CAT-STUDY.
More information on the CATALYST study can be found at www.thecatallergystudy.com.
About the author:  Bret R. Haymore, MD, FAAAAI, FACAAI, FACP completed his medical school training at Penn State Hershey College of Medicine. He served on active duty in the Army for nine years during which time he completed his residency in internal medicine and later a fellowship at Walter Reed Army Medical Center in Washington D.C. Dr. Haymore completed his active duty service in July 2011 as a Major and Chief of Clinical Services for the Allergy and Immunology Department at Walter Reed.  He is the author of numerous publications in peer-reviewed journals.