TULSA, OK—After a week off to gather themselves the Tulsa Oilers returned to action to face the Wichita Thunder in a game that would do a lot to decide their fate in the 2014 Central Hockley League Playoffs.  For Tulsa, they are in the playoffs, but have not as yet clinched a spot, and Wichita must win out in their two final games with their oldest rival to get in.
The Oilers have limped through the month of March to this point.  After having a stunning February they dropped four straight…including two games to the Thunder and were in danger of losing a third time to Wichita before a comeback shootout win last Sunday afternoon that snapped the losing slide.  There is no real tangible reason for the Oilers lethargic start to the final month of the regular season, thus the need for them to scramble now.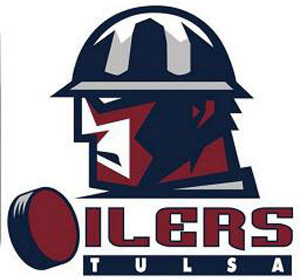 The two teams battled to a scoreless tie in the first period with the Thunder matching the Oilers stride-for-stride and man to man on every rush down the ice.  Despite that, the Oilers managed to fire 10 shots at Thunder goalie Taylor Nelson, compared to only 6 that were sent Shane Madolora's way in the Tulsa net.
Wichita opened the scoring in the game just over a minute elapsed in the second period on a goal by Erick Lizon.  Then a goal by former Oiler Tomas Klempa on the power play at 12:09 made it 2-0 Wichita.  Nathan Lutz provided the goal that ruined the shutout for the Thunder late in the second period.  The Thunder seized a two goal lead at the fourteen minute mark when Mike Wilson shoved home a redirected Matt Summers shot on the power play, but that was answered three minutes later Adam Pleskach scored on an Oilers power play to cut the home team's deficit to a goal at 15:56.
With just seven ticks of the BOK Center scoreclock remaining the Oilers apparently scored, but referee Jake Brenk, waved it off.  Then it was all over.  The Oiler had their fifth loss in six games and drop ever closer to the .500 mark at 30-28-3 and sole possession of the eighth and unclinched final playoff spot in the Central Hockey League.  While it's nice to think about the Oilers being in the playoffs the road is not yet at its end.  Instead of being comfortably playoff-bound, they have to win and rely on other teams to lose in order to get there.
The Oilers travel to Wichita Saturday night for a final game with the Thunder then a quick ride back home to take on the St. Charles Chill on Sunday afternoon.  Tickets for that game and the final home game of the season next Sunday afternoon against Denver are on sale at the BOK Center box office.