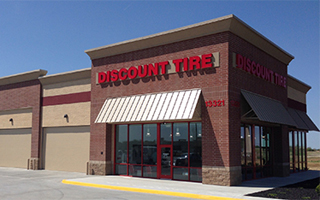 Discount Tire, the world's independent largest tire and wheel retailer, opened its third tire store in the Tulsa area and its thirteenth in the state . The new store is located at 13321 E. 116th St. N. in Collinsville.
Providing the lowest prices on tires and wheels combined with excellent customer service, Discount Tire strives to serve as its customers' knowledgeable and convenient neighborhood tire retailer. The 6,947 square foot store is located near E. 116th Street N. and Highway 169 Owasso Expressway and is open from 8 a.m. to 6 p.m. Monday through Friday and from 8 a.m. to 5 p.m. on Saturday. The store is closed on Sunday.
"Discount Tire is proud to expand in this community. Not only are we providing our customers a needed service for tires in Tulsa region, but we are also creating jobs for those that want to work for a great company," said James Hopf, store manager of the new Discount Tire. Hopf joined the company 14 years ago in Dallas, Texas.
The new store in Collinsville will operate with 15 employees, 10 of which are new jobs in the community. Discount Tire is committed to promoting from within but is always looking for qualified individuals to join them in their exceptional growth.
"As we expand our presence, we are continuing to grow and seek opportunities to serve the local community," said John LeJuene, regional vice president for Discount Tire. "People are looking for a reliable tire retailer, such as Discount Tire, and we are pleased to be doing business in Oklahoma to ensure residents have a tire expert to educate them about the basics of tire safety."
Discount Tire sells a wide selection of leading tire brands such as Michelin, Goodyear, Bridgestone, Yokohama, Kumho, BFGoodrich, Pirelli, Falken and GT Radial along with Discount Tire exclusive brands such as Arizonian, Road Hugger, Pathfinder and MB Wheels. Discount Tire also offers a variety of custom wheel brands including Liquid Metal, American Outlaw, Vision Wheel, Level 8, Voxx, TSW, Konig, Drag and many others.
The phone number for the new store in Tulsa is (918) 371-2044. Discount Tire operates 13 tire stores in Oklahoma. Customers can purchase tires and wheels in the store, by mail order or online. At discounttire.com, customers can locate a store, purchase tires, schedule installation appointments, register for e-mail discounts, gain access to safety tips and other helpful information, and even determine tire and wheel size by brand for their vehicle.
Discount Tire/America's Tire, based in Scottsdale, Ariz., is the world's largest tire and wheel retailer. The company currently operates more than 875 stores across the country. In 2010, the company marked its 50th year serving customers as their trusted tire retailer. For more information about Discount Tire/America's Tire visit discounttire.com. Like us on Facebook at www.facebook.com/discounttire.