Skylar Diggins, the Tulsa Shock's first pick in the 2013 draft from Notre Dame, will represent the team as a starter in the 2014 WNBA All Star game to be held next Saturday night in Phoenix.
Diggins has been a leader on the Shock's score sheet this season, averaging 21.3 points, 5.2 assists, 34.2 minutes per game, and is shooting 44.0 percent from the field in 18 games played this season.
Additionally, Diggins has scored 20 or more points in 13 out of 18 games this season, including three 30-point performances.  Overall in the 2014 campaign, Diggins has scored in double-figures in 17 out of 18 games, and leads the Shock in points, assists and minutes.
The 5'9" point guard ranks second in the league in points per game and fifth in assists per game, including having recorded a career-high 33-point performance in Chicago on June 22. Diggins was drafted second overall in the 2013 WNBA Draft and was named to the All-Rookie Team last season.
Skylar is also ranked #5 on the WNBA's Most Valuable Player list for the 2014 season based on those 30-point games
Skylar Diggins will be the first point guard to make the Western Conference All Star game from the Oklahoma version of the Shock. She joins Liz Cambage (2011) and Glory Johnson (2013 as players selected from the Tulsa Shock as all stars selection from the Shock since they have been in Tulsa. Johnson wowed the crowd in Connecticut during warmups for the game last season throwing down two dunks in the pregame shootaround.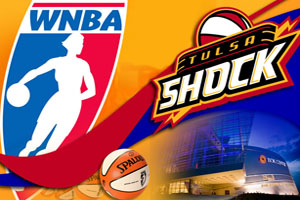 Diggins will join Maya Moore from the Minnesota Lynx, Diana Taurasi and Brittany Griner of the the Phoenix Mercury, and Candace Parker in representing the Western Conference of the WNBA at the All Star game this season.
The Shock will be in action on Thursday night against Minnesota, who are currently ranked second in the WNBA West and on Saturday night they will face the Washington Mystics and former Tulsa Shock guard Ivory Latta at 7pm on Saturday night, July 12. The Mystics are currently fifth in the WNBA East.
The WNBA All-Star game presented by Boost Mobile will take place at US Airways Center in Phoenix on Saturday, July 19, and will be televised nationally on ESPN at 2:30 p.m. CT.