Contrary to President Obama's assertion Monday; fighting continues at the Mosul Dam in northern Iraq with US jets spotted flying overhead, Sky News corespondents on the ground report.
Islamic State (ISIS) militants seized the strategically important site, which supplies water and power to millions of people down the Tigris river valley, nearly two weeks ago.
President Barack Obama announced on Monday that Iraqi and Kurdish forces had regained control of the hydro-electric facility with the help of American airstrikes.
He called it a "major step forward" in the battle against the extremist group.
However, it appears there are still remnants of ISIS in the area putting up resistance.
Sky News's Alex Crawford, at Mosul Dam, said: "We heard firing behind us about 1km away. The president's son said he suspected some hardened ISIS fighters were in the south of the dam who had not been cleared from the area."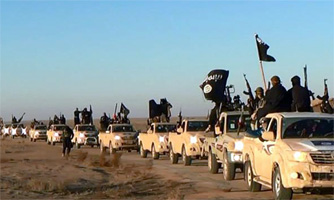 She added: "They are still clearly holding out and putting up some sort of defense."
Crawford said she heard heavy machine gun fire and possibly mortar shelling as well as jets overhead.
US fighter jets and drones have been attacking ISIS targets as they try to help push back the Sunni extremists who have taken over large parts of the north and west since June.