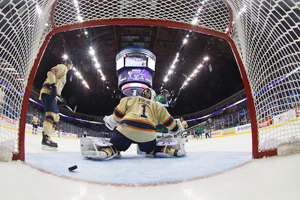 Going into their preseason camp, there will be four prospective goalies trying to make the 2014-15 Tulsa Oilers roster. A former sixth round draft pick of the Carolina Hurricanes, two second-year professionals from the SPHL and from the European league, and a seven year veteran who has spent time in Europe and in the ECHL will be vying for two roster positions on head coach Bruce Ramsay's squad.
Matt Mahalak was drafted in the sixth round to the NHL's Carolina Hurricanes in 2011 and has spent time in the Ontario Hockey League where he played three years with the Plymouth Whalers and one year with the Kingston Frontenacs.
During the 2013-14 season, Mahalak appeared in 51 games for the Frontenacs and posted a 28-19-2 record with a 3.59 goals against average.  The native of Monroe, Michigan recorded his best junior numbers in 2011-12 when he went 19-8-0 with Plymouth and finished the season with career-bests in goal against average (2.66) and save percentage (.923).
Mahalak is eager to show his new head coach what he's made of.
"I wanted to start my pro career in a place with good ownership, good coaching, and a solid team, and I think Tulsa provides all of those things," Mahalak said.  "Coach Ramsay showed a lot of interest in me and it's always nice to go to a place where you're wanted.  I'm approaching it as a huge challenge but I love challenges and that's why I love the game of hockey."
Kevin Carr comes to the Oilers by way of Buffalo State University and the Peoria Rivermen of the Southern Professional Hockey League (SPHL). In four regular season outings with Peoria, the 24-year old Carr registered a 1.48 goals average and a stellar .950 save percentage.
At Buffalo State, the 6-foot-1, 185-pound Carr appeared in at least 25 games in each of his four seasons and finished his college tenure with a cumulative 2.67 goals against average and a .921 save percentage.
For his outstanding senior season, Carr was named a Third Team All-American and was selected to the All-SUNYAC First Team.
Playing in Tulsa intrigues Carr.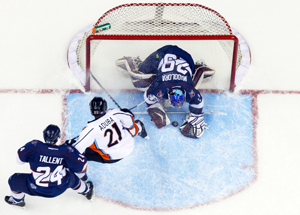 "From everything I've heard, Tulsa sounds like an amazing place to play and I'm excited to get to training camp," said Carr, a native of Unionville, Ontario.  "I think Tulsa will be a perfect fit for me and I'm just looking forward to getting into camp and performing.  I just want to show up and play well and I can't wait to get started."
The two other netminders are Brady Hjelle and Mike Zacharias.
Mike Zacharias comes to Tulsa by way of the Coventry Blaze of the UK. He also spent time in the ECHL with Ontario and Idaho. The journeyman goalie who hails from Plymouth, Minnesota had a 3.18 goals-against average in 60 games in Coventry with a .912 save percentage.
Brady Hjelle is the fourth goalie to sign with the Oilers this season.  The 24-year old spent the 2013-14 season, his first as a pro, with Rosenborg IHK in Norway.  Hjelle split his college hockey career between the University of Minnesota-Duluth and Ohio State University.
As a senior at Ohio State in 2012-13, the 5-foot-11, 185-pound Hjelle appeared in 34 contests and finished the year with a 2.00 goals against average and a .935 save percentage.  By posting outstanding numbers and helping the Buckeyes reach the CCHA semifinals for the first time since 2005, Hjelle earned first-team All-American honors and the award for CCHA Goalie of the Year.
He joins Ben Gordon, Drew Fisher, and Ryan Cramer as the fourth player on the Oilers' roster to hail from International Falls, Minnesota.
After opening training camp on Monday, October 13 at the Oilers Ice Center, the Oilers will play exhibition games in Allen on October 17 and in Wichita on October 18.  Tulsa's regular season begins at Allen on Friday, October 24 and Oilers' home opener is slated for Sunday, October 26 at 4:05 p.m. against Wichita.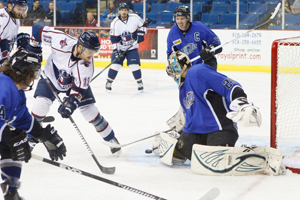 The team announced Wednesday it will host a free Open House on Saturday, September 27 at the BOK Center. From 11:00 a.m. to 1:00 p.m. all Oilers fans and season ticket holders are invited to the arena for free food and beverages, behind-the-scenes tours of the building, as well as the opportunity to win prizes and meet Oilers' players.  Several players already signed to the 2014-15 roster will be available for pictures and autographs.
Those fans interested in purchasing season tickets can view available seats and get questions answered from Oilers' front office staff members.
The Oilers' Open House is completely free and all ages are welcome to attend.  All fans are asked to enter the BOK Center through the main Grand Lobby doors located near the corner of 3rd Street and Denver Avenue.