Garth Brooks and Trisha Yearwood played home Friday night in the first of seven concerts planned for Tulsa's BOK Arena. The crowd roared approval all-night-long in adoration well deserved. The music spoke to the heart and those hearts roared back.
Never, in this writer's experience, have audience cheers been louder than the music – throughout the entire concert. Tulsans love these folk – stars and band.
"I miss this," Brooks said quietly above the cheers. "Ever since the second I learned I was coming here, I was nervous… You always made me feel like I was someone special, but even more you made me feel like I was one of you," Brooks said.
If he was nervous, Brooks did not perform like it. If his band were playing loose, as he told media in an earlier press conference; that was not the sound. They played hit after hit from his historic career and no one missed a beat. They were on point – described as "mesmerizing" by one writer.
Tulsa is the first Oklahoma tour stop since Brooks ended his 13-year semi-retirement last summer after the high school graduation of his youngest daughter, Allie.
With Yearwood, his fellow country superstar and wife, they recently relocated to Nashville, Tenn., to focus on the "second phase" of their music careers as Tulsa Today covered at the time.
Yearwood said she and her husband are both pleased to be back.
"It feels good to me. You know, I lived here for 14 years, so I adopted myself here as an Okie import….All my friends are here, so it's wonderful to be back again," she said.
"It's the people. When I first came out to Oklahoma 15 years ago, I didn't know anybody really but Garth. And he told me, he said, 'what you're gonna love most about Owasso are the people.' And he was right, and that's what I miss the most. And the sunsets. And Braum's."
For the record, Tulsans have also adopted Yearwood. This audience of friends and fans cheered loud and proud. She sang her newest song "Prizefighter" and her classic hits.
"This is the ninth [stop] on the tour," Brooks told The Oklahoman after the news conference. "This is great. We're gonna learn a lot right here. When you play for an audience that knows their country music inside and out – I mean, Oklahoma is steeped in country music tradition – they're gonna know what's real, they're gonna throw out what's not real quick, and you don't get a second chance here. So you go in and we're gonna learn a lot and it's going to be nothing but good times."
Nashville singer/songwriter Karyn Rochelle opened the show. A singing member of the band, she has written several songs for Yearwood.
Rochelle ended her short set with a song about leaving a relationship which may not be new subject matter, but she offers a great twist in the line, "He'll only leave you better off."
Rochelle is building her fan base and met the crowd after the show in the lobby as she sold her first CD encouraging fans to buy the disk so she could "pay off mom" who paid for production.
Before the show began Garth Brooks had already shattered his hometown sale record: He sold 105,000 tickets the first day Tulsa tickets went on sale and the number of shows ballooned from three to six to seven, with all practically sold out. For some reason, the promoter refused to allow the venue to announce it as "sold out," but, functionally, if no one else can buy a ticket it's a sold out show or series of concerts. Back in 1997, the "Friends in Low Places" hit-maker sold 79,855 tickets over five shows from July 17 to 21 at Tulsa's Drillers Stadium.
Brooks said this tour has buildings booked through 2017 and he hopes the U.S. leg alone of his comeback trek matches the three years of his last world tour.
This tour also promotes www.GhostTunes.com a digital music platform Tulsa Today wrote about this week which allows an artist more control over the presentation and packaging of the music. Click here for more on GhostTunes.
The Garth Brooks Teammates for Kids Foundation was also featured during the concert. Teammates for Kids has been instrumental in providing scholarships for underprivileged children allowing them to attend ProCamps Sports Camps, hosted by some of the biggest names in professional sports. Many of the athletes ProCamps works with have been actively involved as 'Teammates' since the foundation's launch.
As part of Garth's World Tour, there will be a "Teammates ProCamp" during each tour stop. Camps are free to the participants from the organizations selected to attend. They vary by sport and are led by various professional athletes and coaches. Brooks will take time to come out to each camp to participate with the kids and make a lasting memory – another reason Tulsans love him.
For those worldwide that may come across this small corner of the web, know that Tulsa is not "star struck" by Garth Brooks or Trisha Yearwood. We know music and fame here.
From Northeastern Oklahoma we have provided by birth and adoption; Bob Wills, Hoyt Axton, Reba McEntire, Carl Radle, Leon Russell, JJ Cale, Larry Bell, Mike Bruce, Tommy Crook, Roy Clark, Jim Halsey, David Teagarden, Hanson and others now working worldwide.
Today, young men and women in Tulsa are perfecting skills, practicing until it hurts, playing for peanuts in places where it often seems no one cares, but for the love of music they play. Talent is the result of practice, focus, hard work and if they are very determined and learn the business side … just maybe one day by God's Grace, they might stand on a stage to the roar of a packed house and feel in their heart the love of thousands.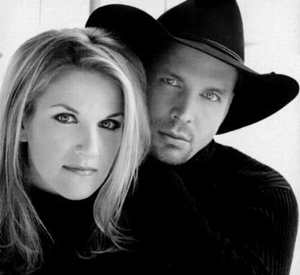 In the case of Garth Brooks and Trisha Yearwood, fans follow not just because of performance skills, but of life lived well – real people appreciate real people heart to heart. We know them. We love them. They are of us.
In the BOK Center public lobby, you can usually hear the music during concerts, but Friday night, the cheers ruled.