Academy, Ltd. (d/b/a Academy Sports + Outdoors), a $4 billion, premier sports, outdoor and lifestyle retailer, announced today that it will open its first store in Owasso in 2015 offering a wide selection of casual and athletic footwear and apparel, team sports and golf products, patio sets, barbecue grills, along with hunting, fishing and camping equipment and gear at everyday low prices.
"Whether heading out to Rayola Park or gearing up for little league, active-minded families in Owasso will be able to shop their own convenient Academy Sports + Outdoors store," says Ken Attaway, Academy Sports + Outdoors executive vice president, chief operating officer. "We're excited to open our doors next year and be an active member of the Owasso community."
Academy Sports + Outdoors' Owasso store will be approximately 63,000 square feet and create approximately 125 jobs. The store will provide many services including assembly and delivery, hunting and fishing licenses, scope mounting, bore sighting, line winding/spooling, propane exchange and racquet stringing and have a broad selection of local team gear that customers have come to expect from Academy Sports + Outdoors.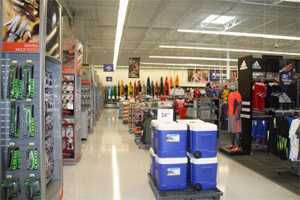 A cornerstone of the Academy Sports + Outdoors philosophy is active community support and grassroots involvement throughout its footprint. The company has a history of giving back to local communities through partnerships with sports teams, youth organizations, and outdoor conservation programs. Academy Sports + Outdoors is the Preferred Sporting Goods Retailer of Sooner Sports as well as a Proud Partner of the Oklahoma State Cowboys, Ducks Unlimited and National Wild Turkey Federation.
Individuals interested in careers can visit www.academy.com/careers to apply for positions. Prior to the store opening, customers can shop academy.com, receive the digital version of the weekly ad, engage with Academy Sports + Outdoors through its social media sites, sign up for email and SMS text alerts, or visit any of the Tulsa area stores.
For more information about Academy Sports + Outdoors visit academy.com, facebook.com/academy, twitter.com/academy, pinterest.com/academy, youtube.com/academy and instagram.com/academy.