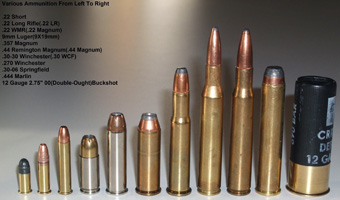 Congressman Steve Russell (OK-05) joined House Judiciary Chairman Bob Goodlatte (R-VA) yesterday in asking the Director of the Bureau of Alcohol, Tobacco, Firearms, and Explosives to explain why certain legal processes are not being followed and what rationale lead to a proposal by the BATFE to ban the sale and manufacture of certain ammunition.

"When the Administration or agencies of the federal government bypass our nation's laws to achieve what appears to be a purely political end, such as the BATFE trying to use back-door gun control tactics to further limit our freedoms, it provokes fear and chronic distrust of our government.   I want to shine a light on this darkness and I want answers," said Russell.
"This Administration and many in the federal government too often fail to address or even recognize the real problems facing our nation but are quick to turn attention and impose limitations or more regulations on law-abiding citizens."
In a move many believe appears to be an effort to restrict the Second Amendment and shooting sports in particular, the BATFE is proposing to ban the sale and manufacture of one of the most commonly sold firearm rounds, the M855 5.56X45mm, which is used in the most popular rifle design in the U.S., the AR-15.
Congressman Russell is a retired Army officer who owns a rifle manufacturing company and is a shooting sports enthusiast. The letter to BATFE Director B. Todd Jones seeks an answer to, among other concerns, why the BATFE isn't following the law under the Administrative Procedures Act (APA) (5 U.S.C. 533) which requires the BATFE publish a general notice of its framework for proposed rulemaking in the Federal Register.
He and several dozen House Members signed Chairman Goodlatte's attached letter asking the BATFE to explain why they are not following the law and requiring them to be transparent in their intentions.