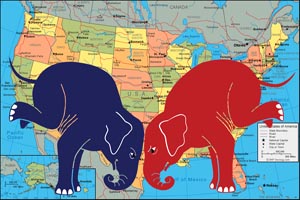 The Oklahoma County Republican Party Executive Committee has issued a release of a resolution opposing T.C. Ryan as a paid staffer for the State Party and asserts State Party leadership reprisals just over a week before the controlling body, the Republican State Committee meets for the first time since the State Convention.
The OK County GOP resolution voted this week specifically opposes new State Chairman Randy Brogdon's appointment of a convicted domestic abuser to a paid position with the Oklahoma GOP.
Despite massive outcry from county chairs and Republican elected officials, Chairman Brogdon has refused to let go of T.C. Ryan. Instead, Brogdon has reacted to dissenting opinions by denying voter registration data access to county parties and excluding elected and appointed officials of Republican Party Districts 4 and 5 from crucial budget meetings, Oklahoma County Republican Party Chairman Daren Ward wrote.

"The hiring of Ryan has shown complete disregard for the opinions of women, and the Oklahoma County GOP is taking the lead by passing this resolution to begin the process of wiping away this blemish," said Ward.
"Brogdon's heavy handed approach to dissent is troubling considering he has been elected to be the chairman for all members of the state party, not just the chairman of those he has deemed to fall under his idea of Republicanism.
"I would expect this sort of behavior from the current executive administration in Washington, D.C., not from a Republican State Chair.  I ask that he reverse his actions and appreciate the diversity of people and views within our party," Ward added.

Tulsa Today has confirmed Brogdon attempted to retaliate against critics in multiple ways leaving many long active Republicans with the impression Brogdon doesn't hold the emotional stability for the position to which he was elected.
In short, Brogdon leads a volunteer organization – not a military organization.  It is impossible to command obedience from volunteers in a volunteer organization supported exclusively by voluntary donations. Said another way, if volunteers can be forced – then they are not volunteers, but minions.
Further, multiple sources report that Brogdon exploded during a phone call with the OK Republican Women's Legislative Caucus – shouting over speaker phone to these elected women leaders, "You women think you run the Republican Party, but you don't."
Brogdon previously exploded at the Tulsa Republican Club in defense of T.C. Ryan.
The victim of T.C. Ryan's domestic violence spoke on the record in an exclusive interview with Tulsa Today that you may read online. T.C. Ryan pled guilty (#CM-2012-2339) to Assault and Battery – Domestic in the Presence of a Minor Child and Interference with Emergency Telephone Call in Tulsa County.  The victim's story is available by clicking here.
There will be a GOP State Committee Meeting June 27 at the Hope Worship Center, 8304 S 107th E Ave, Tulsa. While not listed as an item on the agenda, the appointment of T.C. Ryan and Randy Brogdon's lack of political skill in office is expected to be discussed.
While national media has covered what they have called the "turmoil" within the OK State GOP, this is more properly described as a grassroots broad-based realization that a leader must be responsive to the organization and a rejection of dictatorial leadership. A positive sign for the party and proper in a classic organization of free citizens.