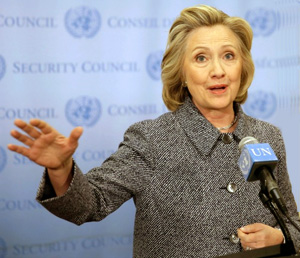 An excellent well-referenced article on The Daily Beast by Alexa Corse and Shane Harris explores a two-month gap in Hillary Clinton's emails that coincides with violence in Libya and the employment status of a top Clinton aide, Huma Abedin.
The story notes that among the approximately 2,000 emails released by the State Department from former Secretary of State Hillary Clinton's private account, there is a conspicuous two-month gap. So far, there are no emails between Clinton and her State Department staff during May and June 2012, a period of escalating violence in Libya leading up to the September 11 attack on the U.S. consulate in Benghazi that left four Americans dead.
A State Department spokesman told The Daily Beast that for the year 2012, only those emails related to the security of the consulate or to the U.S. diplomatic presence in Libya were made public and turned over to a House committee investigating the fatal Benghazi assault. But if that's true, then neither Clinton nor her staff communicated via email about the escalating dangers in Libya during those two crucial months.
There were three attacks during that two-month period, including one that targeted the consulate. (Of course, email isn't the only or even the preferred way State Department officials can communicate about sensitive issues — especially if one of those officials is using a private server ill equipped to handle classified information.)
That two-month period also coincides with a senior Clinton aide obtaining a special exemption that allowed her to work both as a staff member to the secretary and in a private capacity for Clinton and her husband's foundation. The Associated Press has sued to obtain emails from Clinton's account about the aide, Huma Abedin. So far, the State Department has rebuffed those efforts.
Nor, understandibly, did Foggy Bottom turn over any emails about Abedin's employment status to the Benghazi Committee, which asked only for Libya-related material.
But the Abdein messages may come out eventually. Over the next several months, the State Department is slowly publishing online tranche after tranche of Clinton's emails. The tranche covering the Spring and Summer of 2012 is expected later this year.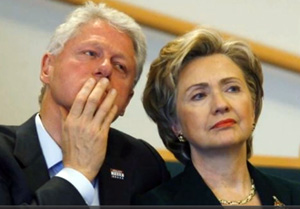 The status of Clinton's emails has become an explosive political issue ever since The New York Times revealed that the then-Secretary of State was using a private email server to handle her official correspondence. Cybersecurity experts believe the homebrew system opened Clinton and her colleagues to targeting from online spies. The State Department and Intelligence Community Inspector Generals have asked the Justice Department to look into the possible disclosure of classified information.
Regarding the security situation in Libya, there was plenty for Clinton and her team to discuss via email. On May 22, 2012, the International Red Cross's Benghazi office was hit by rocket-propelled grenades.
Click here for more from The Daily Beast.
So do we not know the entire Clinton Crowd are evil?  Lying low-life criminal Marxists?
In a Daily Mail exclusive, the British newspaper reveals that the woman who outed Monica Lewinsky for her affair with President Clinton is now on the warpath against Hillary. Citing the then-first lady as a "destroyer" who ruthlessly attacked and ruined the reputations of many women linked sexually to her husband, Linda Tripp is quoted in the Daily Mail as saying that Hillary Clinton "must never become president" because she's a devious and manipulative liar.
Because, according to Linda Tripp, it was Hillary who manipulated and stage managed the story [of the Lewinsky affair], converting herself from a lackluster First Lady with unimpressive approval ratings to admirable First Victim – the blindsided wife standing by her man.

She made him forgivable. She 'orchestrated the cover up' and she made damn sure that she moved on. Nothing, and no-one, was going to stand in her way.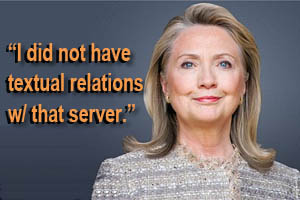 Now 65 years old, Tripp has chosen to break her ten-year silence as Hillary seems all but destined to become the Democrat nominee for president in 2016. Once a White House aide with an office right next to Mrs. Clinton's West Wing power center, Tripp tells the Daily Mail that Hillary is "unscrupulous," "deceitful," and "inherently dishonorable."
She describes Hillary as the true 'ruler' of the White House through her husband's administration; tells how she watched Hillary 'blatantly lie' to the American people; describes her as utterly 'ruthless' in her pursuit of power; and voices her belief that Hillary must never gain the presidency – the position that has always been her goal and to which she has always believed herself entitled.
Regarding the current emailgate scandal that continues to plague Hillary from her time as secretary of state, Linda Tripp says the former chief diplomat is pursuing a familiar strategy in trying to get past the controversy surrounding her use of a private email account maintained on a personal server.
Her modus operandi was, and continues to be, Tripp explained: 'I will do what I want and then when I'm questioned I will say, "oops," or "bureaucratic snafu", and then after a couple of months her refrain will be, "this is old news, it's been investigated, I did nothing wrong, let's move on, it's time to address the issues facing the middle class of America."

Maybe Hillary's words would carry more weight with the middle if she had any class.