Editorial: It's another damning moment for the Democratic Party.  Apparently they can't find a difference in the policies of their party and socialism. Hillary Clinton, in an otherwise friendly interview on MSNBC, struggled to answer that question Tuesday when asked by host Chris Matthews. (We have no idea if Mathew's leg was quivering so don't ask.)
At first, the Democratic presidential front-runner seemed to suggest the question should be directed at her rival in the race, Vermont Sen. Bernie Sanders, a self-described democratic socialist.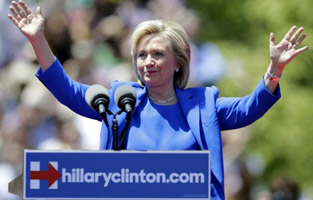 "You see, I'm asking you," Matthews countered.
Clinton simply replied, "I'm not one."
Beyond that, she declined to explain the differences between the two.
"I can tell you what I am, I am a progressive Democrat … who likes to get things done," Clinton said. "And who believes that we're better off in this country when we're trying to solve problems together. Getting people to work together. There will always be strong feelings and I respect that, from, you know, the far right, the far left, libertarians, whoever it might be, we need to get people working together."
The awkward exchange was reminiscent of an interview the same host had in July with Democratic National Committee Chairwoman Debbie Wasserman Schultz, who also struggled to explain the Democrat-socialist distinction.
Here is the point: If she can't define a difference – there are none. History shows that socialism believes no limitation of liberty or question of freedom should limit the power of the few to rule the many. Further to the point; the only difference in ideology between socialism and communism is that communists put soldiers on street corners to enforce their rule while socialists prefer to indoctrinate children for the same objective: total elitist control over the individual.
Clinton and Schultz' reluctance to answer the question may reflect a reluctance to rile the millions of Democrats supporting Sanders' openly socialist campaign.
Matthews spoke to this undercurrent in the interview Tuesday, saying he understands Clinton wants to keep the left and center-left united.
Clinton's interview fueled allegations that the distinctions are narrowing. "It is obvious Secretary Clinton didn't want to get into the differences between a Democrat and a socialist, and the reason is simple: there aren't any," Jeff Bechdel, spokesman for the conservative America Rising PAC, said in an interview on this topic with Fox News.
A previous damning moment for the National Democratic Party came during national convention when delegates thrice booed reference to God in their platform live on national television, but Bill Clinton's impeached honesty and multiple accusations of forced violent sexual conquest – bite a lip, leave a mark of personal power (it's ok; the "bimbo eruption team" led by Hillary will silence the less powerful) long ago set a standard of virtue or the lack thereof.