Most state legislators aren't qualified to create a budget, State Auditor Gary Jones told Cleveland County Democrats. A Republican who replaced a Democrat when he was elected in 2010, Jones is known for his candid comments and conservative fiscal policy.
"We don't have enough educated people in the (budget) process," he said, pointing out that lawmakers serving on the budget committee aren't CPAs and have little or no professional financial experience or training.
As the chief auditor for the state, Jones is taxed with auditing the financial accounts for all of the state agencies, but his office is not allowed to be part of the budget process, he said.
The mission of the auditor's office is to independently serve Oklahomans "by promoting accountability and fiscal integrity in state and local government." To those ends, Jones said he doesn't care if a deputy auditor is a Democrat or a Republican and he doesn't let politics dictate decisions. Asked to removed a critical comment from a report early in his career, he declined.
"We don't play that game," he said. "We tell it the way it is."
Like every state agency, Jones' office has experienced budget cuts.
"Our appropriated funds have been cut 40 percent since I've been in office," he said.
Though he has added more CPAs, and his office is billing more. An outspoken critic of the current budget crisis, Jones said the state needs to set priorities and fund core services like education first, then when the money is gone, it's gone. He calls the current process "the political budget."
"That's where the Legislature plays 'let's make a deal,'" he said.
He believes professionals should make the budget and let the Legislature approve it. Jones favors needs-based budgeting versus historical budgeting. Needs-based is a modified form of zero-based budgeting, he said.
Jones was asked whether Attorney General Scott Pruitt has been wasting taxpayer dollars filing frivolous, politically based lawsuits.
"Our office is in the process of auditing the Attorney General's Office as we speak," he said.
Jones said tax credits should be audited, but he's been excluded from that process. He said businesses don't like auditors looking at their finances.
"Then quit asking for state money," he said.
Jones does not support using unclaimed property funds as a one time solution to help ease the current budget crisis.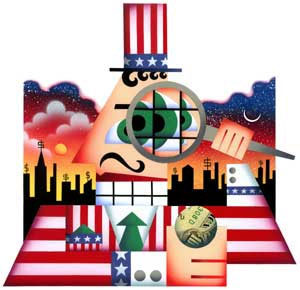 "You need to be leery before you start robbing money that has a dedicated purpose," Jones said.
He added that long range planning is important for the future.
"If you look ahead, where the revenues are, you've got to change things," he said. "Is there a part of government you can do without? You can't starve everybody — you've got to fund core services."
(HT: McCarville Report)