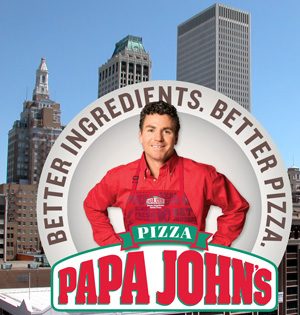 Tulsa, OK. – With the holidays bringing in the most food donations during the year, summer often marks a difficult period of time for local food banks to meet demand. With this in mind, Papa John's Pizza in Tulsa decided to bridge the gap and hold a two-week food drive from July 25th until August 7th for the Community Food Bank of Eastern Oklahoma.
"We are always seeking out different ways to make an impact here in Tulsa and this is an opportunity for us to use our Tulsa locations for those in need," said Eric Murphy, president and COO of Ozark Pizza Company, LLC. "This is our home and we want to make sure we are doing everything we can to make a difference in our community."
The event, dubbed Cans for Cookies, was created as a "give one, get one" initiative to encourage people to donate food for those in need. Customers can stop by Papa John's with four or more nonperishable food items and receive a free Mega Chocolate Chip Cookie as a thank you for donating.
All nonperishable food items donated will directly benefit the Community Food Bank of Eastern Oklahoma and their partner programs.
If you would like to donate nonperishable food items for the Community Food Bank of Eastern Oklahoma, we encourage you to stop by one of our nine Papa John's locations in the Tulsa metro area. There is no purchase necessary to participate in this event.
Drop off locations:
11th & Delaware • 2802 E. 11th St.
51st & Harvard • 5111 S. Harvard Ave.
31st & Garnett • 10829 E. 31st St.
Bixby • 8010 E. 106th St.
Broken Arrow • 904 N. Elm Pl.
Broken Arrow • 6323 S. Elm Pl.
Claremore • 502 S. Lynn Riggs Blvd.
Owasso • 12402 E. 86th St N.
Glenpool • 12174 S. Waco Ave.
Ozark Pizza Company, LLC was founded in 2007 by President and Chief Operating Officer Eric Murphy now owns and operates 53 Papa John's Pizza locations across four different states. Headquartered in Tulsa, Ozark Pizza Company employs over 1,300 people and is the third largest Papa John's franchisee. Follow our Papa John's Pizza Oklahoma Facebook and Twitter pages for local deals and updates. 
Papa John's International, Inc. (NASDAQ: PZZA) is the world's third-largest pizza delivery company. For 14 of the past 16 years, consumers have rated Papa John's No. 1 in customer satisfaction among all national pizza chains in the American Customer Satisfaction Index (ACSI). Papa John's is the Official Pizza Sponsor of the National Football League and Super Bowl 50.