Angel Gilberto Garcia-Avalos had been deported five times in just the past four years, yet each time he has managed to sneak from Mexico back into the U.S., where he ended up in more mischief: driving without a license, attempted burglary and felony weapons charges.
In August, he graduated to full-fledged mayhem, sparking a fire in the Sequoia National Forest that has already cost the government $61 million and left some of the country's most beautiful landscape scarred for years to come as reported by The Washington Times.
The Times reports: Garcia, who pleaded guilty last month and faces 13 months in prison, had only recently been released from the Kern County Jail. He likely would have been deported again, but local authorities were unable to report him to immigration authorities because of California's new sanctuary city law, which prohibited the sheriff from communicating with federal agents.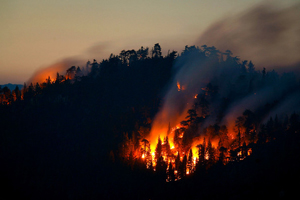 Of the 29,000 acres that were touched by fire, more than half sustained moderate or high-intensity burns. Communities were evacuated in two counties, and a handful of cabins and outbuildings were scorched.
It took six weeks to fully contain the fire. Officials warned at the beginning of October that hot spots could persist until the first snows blanket the area and snuff out the last vestiges.
It took more than $60 million to contain and extinguish the blaze. Mr. Chatel submitted an emergency restoration plan at a cost of $500,000. That doesn't include long-term restoration of campsites, cattle-grazing areas and long-term revegetation.