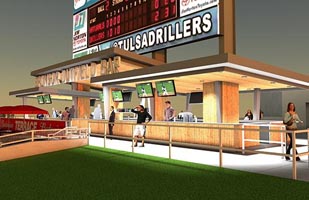 The bar is being raised at ONEOK Field this off season. Literally. Construction is underway on a new, scoreboard bar in another major, off-season upgrade for the downtown stadium that is home to the Tulsa Drillers and Tulsa Roughnecks.
The open-air, four-sided bar is being constructed under the stadium's scoreboard behind the left-center field fence. The design will feature a combination of steel and cedar elements to give the area a unique feel. When completed, it is believed it will be the largest, outdoor bar in the state of Oklahoma.
The scoreboard bar will feature 12 big screen TVs, giving fans the chance to follow more than one game. It will serve dozens of imported and domestic beers, including several Oklahoma craft beers. The actual bar will be over 62 feet long with a total area of nearly 1,200 square feet.
The layout of the bar was designed by King Architectural Solutions, whose offices are located next to ONEOK Field in the historic Greenwood District of downtown Tulsa. The actual construction is being done by West Construction of Tulsa.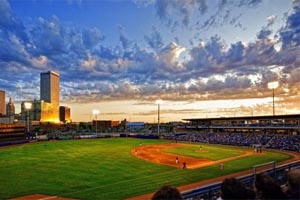 "There are so many ways and places to enjoy games at ONEOK Field, and this new project provides another exciting amenity for fans," said Drillers Co-Chairman Dale Hubbard. "We expect it to become a fun gathering place that will offer a memorable and unique experience for fans."
In addition to game day festivities, the scoreboard bar will also be available to rent for private events. On selected nights, it will remain open after games and after fireworks shows for fans wanting to extend their evenings in downtown Tulsa.
The scoreboard bar is the latest in several off-season projects that have been conducted by the Drillers and the Tulsa Stadium Trust to ensure that ONEOK Field remains one of the finest facilities in the country. Since the stadium's opening in 2010, other additions have included the kid's splash zone play area beyond the centerfield wall and the wrap-around video board on the suite level, the first of its kind in minor league baseball.
"We want to continue to re-invest in ONEOK Field to continue to improve the experience of coming to a game," said Drillers Co-Chairman Jeff Hubbard.
A number of season ticket packages for 2017 are currently available. For more information, fans can call the Drillers at 918-744-5901 or can CLICK HERE.