Governor Mary Fallin early today congratulated Oklahoma natives Trent and Thad Luckinbill for their work on the film, "La La Land," which received six Oscars during Sunday night's Academy Awards ceremony.
Fallin made no mention of Hollywood elitist(s) cognitive issues as Warren Beatty and Faye Dunaway mistakenly announced La La Land as the winner of the Best Picture award, when Moonlight had really won or the tiresome refrain of Leftist ideology (which history proves idiotic) in the bashing of President Donald J. Trump prominently on display.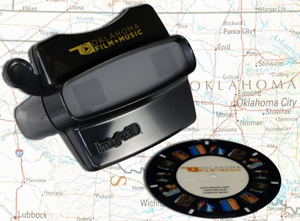 Apparently, this release was prepared in advance for Governor Fallin by the OK Film and Music Office.  No mention was made of other Oklahoma winners so one must assume this Luckinbill release of love a result of money or some amount of political influence.
Shawnee-born actor/producer Brad Pitt is among the executive producers on "Moonlight." His Plan B Entertainment also produced the 2014 best picture winner "12 Years a Slave."
"I applaud Trent and Thad Luckinbill for their blockbuster hit," said Fallin in the release. "All of us Oklahomans are standing a little taller today with a sense of pride because of their impressive achievement."
The release continues:  Trent and Thad Luckinbill, Enid natives and brothers, helped finance and produce "La La Land" through their company, Black Label Media, which they formed with producer Molly Smith in 2013. In only a few short years, the company has financed and produced a number of hit films including "Demolition," "71," "The Good Lie," "Begin Again" and "Sicario", which was nominated for three Academy Awards in 2015. The Oklahoma Film + Music Office is working with the duo in hopes of attracting one of their future productions to Oklahoma.
The Luckinbills have come a long way since graduating from the University of Oklahoma. Trent, who earned a law degree, has an extensive legal and financial background with the Department of Treasury's Office of Financial Stability and the Justice Department in Washington, D.C. Shortly after earning a business degree, Thad moved to California where he began working as both an actor and producer, widely known for his role as J.T. Hellstrom on the CBS soap opera "The Young and the Restless." Their recent success with "La La Land" has transformed into box office gold as the film has dominated the box office, raking in more than $343 million since its release.
"We are very proud to be a part of 'La La land' and the incredible reception it has received," said the Luckinbills. "When Black Label decided to come on board, we knew that we were working on a special film with tremendous heart. We are amazed and thrilled by the outpour of praise and the way in which the film so thoroughly resonates with a universal audience. As two proud Oklahomans, it is exciting to see the film industry in our home state now rapidly building, with strong incentives and rebates. We've received overwhelming support from the state and look forward to finding opportunities to bring future productions to Oklahoma."
"La La Land" won six Oscars; for lead actress, best director, cinematography, production design, original score and original song. With a total of 14 Oscar nominations, the film tied "Titanic" and "All About Eve" for the most nominations for a single film in motion picture history.
Written and Directed by Damien Chazelle ("Whiplash"), "La La Land" is a modern-day musical with a classic flair that tells the story of a jazz pianist (Ryan Gosling – "Drive," "The Notebook") who falls for an aspiring actress (Emma Stone – "The Help," "Birdman") in Los Angeles.
Editor's Note:  For more on the 2017 Oscars Fail, click here for Breitbart.com or here for FoxNews.com or here for NewsOk.com.