A new report has been released by an independent group on the investigation into the death of Democratic National Committee (DNC) staffer Seth Rich.
The  27-year-old Rich has been described as an "disillusioned DNC" staffer, believed to have leaked thousands of damaging DNC emails to WikiLeaks, who was murdered in the early morning last July 10, in a residential Washington, D.C. neighborhood. Contrary to fact, Democrats continue  to insist the DNC emails have been hacked by Russia or agents in collusion with Moscow.  
The Profiling Project: Seth Rich Homicide – Initial Findings – June 20, 2017
The Profiling Project is an all-volunteer group of current and former George Washington University forensic psychology graduate students and instructors.
They declare they came together only to aid the Washington, D.C. Metropolitan Police (MPD) utilizing forensic psychology skills and tools in hopes of providing at least one actionable item to MPD
They found after a three-month review and investigation
1. Seth's death does not appear to be a random homicide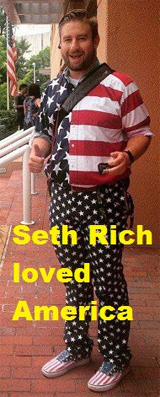 2. Seth's death does not appear to be a robbery gone bad
3. Seth death was more likely committed by a hired killer or serial murderer
4. There may be additional video surveillance of the crime and crime scene
5. The resolution of prosecuting the individual(s) responsible appears to be hindered both actively and passively
6. Seth's killer(s) most likely remains free within the community
This report is broken down into the following sections: 1. Project Recap 2. Definitions 3. Profile of Seth Rich 4. Victimology 5. Questions We Asked 6. Neighborhood Canvas Conducted on May 4, 2017 7. Discussion, Considerations and Additional Research Needed 8. References.
Click here to read the entire report.
Click here for a previous report on Tulsa Today about the Seth Rich Murder.