A member of pop music royalty was in Tulsa recently as Janet Jackson brought her "State of The World Tour" to the BOK Center, performing before an enthusiastic audience of all ages and earning praise as an extension of 2015's "Unbreakable Tour," which went on hiatus as Jackson gave birth to her son Eissa in January.  
As the house lights dimmed anxious fans stood on their feet and applauded as they anticipated the arrival of Jackson.  They had to wait just a little longer as a video played on three large screens touching on recent events such as domestic terrorism, the killing of black men by police and right-wing extremists, while also condemning white supremacists.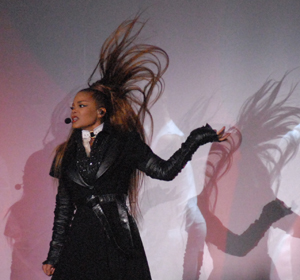 Sporting long flowing locks, Jackson took the stage adorned in all black clothing which included a black jacket and using a cane as a prop as she glided across the stage singing "State of The World."  Looking at the diminutive artist, one could hardly believe she gave birth just nine months ago as she appeared to be in tip-top shape the way she danced all over the stage in perfect sync with eight backing dancers, who were clad in all white clothing.  At 51 years of age you could almost expect her to be content letting the talented dancers do the majority of the routines, but that wasn't the case.  Not with a Jackson.  There wasn't much banter with the audience, she let her performance do the talking as she entertained the Tulsa crowd with hit after hit, including "When I Think of YOU," which she reminded the crowd hit number one on the charts when she was just 19 years old, and "Again" from her 1993 movie "Poetic Justice."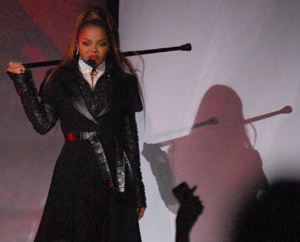 At one point Jackson exited the stage for a costume change, allowing her dancers to perform alone in the spotlight.  When she returned she was dressed in black and red sweat pants, denim jacket and flannel shirt tied around her small waist and sat down on a stool as she performed "What About."  As the song came to close it looked as if her emotions got the best of her, as she briefly knelt on the stage.  When she stood, she appeared to wipe tears from her eyes as she exclaimed, "This is me" which drew applause of support.
For approximately two hours, the Tulsa audience danced and sang along with Jackson, putting recent events behind them and united as one.  For that, we should be grateful.
Click here for more from Janet Jackson's "State of The World Tour."  Photos and story by Greg Duke, Tulsa Today.