Updated Editorial: When wing-tips of the political right and left promote the same candidate, Oklahoma voters of independent thought reasonably question why in the race for governor 2018.
Gary Richardson has been repeatedly profiled in positive ways by Bobby Lorton's online cry for attention and by extremist blogger Al Gerhart best known for threatening legislators – those two about as far apart as possible politically.
Both have self-aggrandizement in common, but no substantive policy positions to share. What would earn their common praise for a populist trial lawyer in the race for Oklahoma Governor in 2018?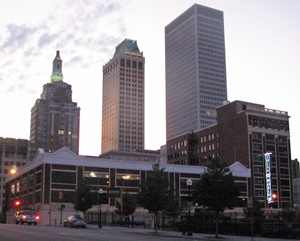 Bobby Lorton's effort, The Frontier, purposes "to form a group of journalists free to do hard-hitting journalism" which is hilarious given his family owned and operated the Tulsa World the often leftist daily for a century. He was the CEO and publisher when it sold in 2013.  Apparently, Lorton disagreed with the family decision to sell.
One would think 100 years would be enough time to get around to "hard-hitting journalism."
In 2002, Gary Richardson ran for Governor as an Independent, eventually facing off against Democrat Brad Henry and Republican Steve Largent.
Gaining 14 percent of the 1,035,620 votes cast; Richardson's divide of the conservative vote gave us eight years of Democrat Brad Henry who brought Indian Gaming and State Lottery (promised to totally fund education) among other leftist policy misfires. The only conceivable reason Lorton's Frontier would devote attention to Richardson is the hope to again divide conservative voters.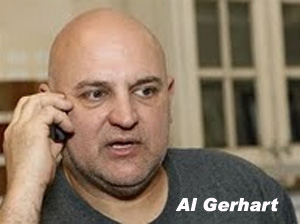 On the far right, blogger Al Gerhart writes disgustingly inaccurate emotionally and intelligently stunted garbage – political fiction. In 2012, Tulsa Today summarized Gerhart as "Oklahoma's most unsuccessful activist" (Click here for that story). We also noted a warning to Oklahoma activists about Gerhart from Kay Beach (click here for that piece).
Gerhart, who lives in central Oklahoma attended a 2016 Christmas Party at Gary Richardson's home in Tulsa and they hold in common memberships in fringe political groups. Richardson has hired far right activists to work for him.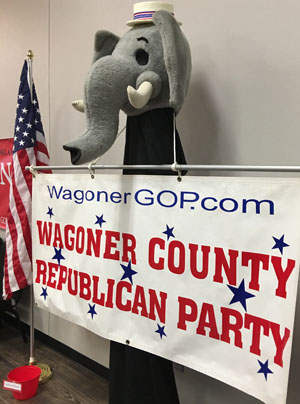 At a recent Gubernatorial Debate in Wagoner three candidates appeared, Gary Jones, Gary Richardson and Kevin Stitt. All three promoted conservative issue positions on most issues.
Kevin Stitt repeatedly referenced his private sector experience as a national mortgage banker based in Jenks.
Gary Jones currently Oklahoma State Auditor and Inspector spoke in the most detail about how the Oklahoma Legislature has failed to budget because they don't really understand budgeting. Term limited in the auditor's office, Jones asserts he knows from experience how to reform the budget, where money for education can be found and how to implement performance audits for greater accountability.  In short, he says he can fix Oklahoma.
Richardson on stage appeared sleepy during some of the presentations. His speech focused on toll roads with great distain for the Oklahoma Turnpike Authority. While that pitch resonates in Northeastern Oklahoma, it was the same pitch Richardson unsuccessfully used in  2002.
In the spirit of full disclosure, Tulsa Today accepts political advertising (since 1996). We ran ads for Richardson in 2002 and are running ads from candidates currently campaigning. For more information on advertising, email editor@tulsatoday.com. Advertising does not direct our editorial content.
Since our founding Tulsa Today has covered politics and we were the first statewide media to report on Gary Jones' battle against corruption directed by the convicted criminal former-senator Gene Stipe who served in the legislature for 46 years before he pleaded guilty to federal charges of perjury, conspiracy to obstruct a Federal Election Commission investigation, and conspiracy to violate the Federal Election Campaign Act, relating to his role in funneling illegal contributions.
Gary Jones testimony to the Federal Bureau of Investigation (FBI) began the end of Gene Stipe's long-standing and truly evil Democrat Party political machine in Oklahoma.  Voters of independent thought and any who support honest government should sing praises, but not, apparently, Al Gerhart.
Gerhart writes on his blog, "Jones is a former GOP State Chairman, more of a liberal Republican than most." That is a lie.
This writer is active in the Oklahoma GOP (a lose collection of conservative activists at best) and Jones has always been independent minded and staunchly conservative. It was the right of the party that supported Jones for the Chairmanship more than a decade ago. Jones, as Auditor, fights with the establishment that tried to throw his office out of the State Capital Building.  His audits make establishment good-old-boys very uncomfortable.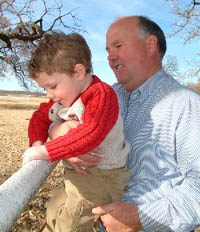 Gerhart writes again, "Gary Jones's Incompetency and Complacency Obvious For All to See." Apparently, the ignorance or duplicity of Gerhart leads him to believe that the State Auditor and Inspector can begin an audit of anyone anytime at his own pleasure – that is factually incorrect.
Audits can only be conducted when and where they are officially authorized. Sadly, some conservative news aggregators carry Gerhart's rants to their ongoing shame.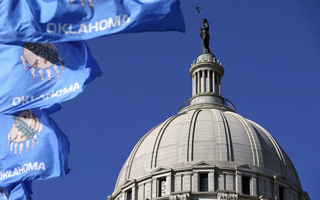 For the record, this editorial takes no stand on who should be elected Governor next year, but our state must address serious issues of substance and when the far right and the far left both agree – we should all wonder why.
About the author: David Arnett won two national awards as a First Amendment Advocate (1987 and 1988). He is a former city reporter for the Tulsa Tribune, the afternoon daily that departed in 1992 and published 32 editions of community papers before founding Tulsa Today in 1996. He hosted The David Arnett Show, on KRMG's weekend lineup in 2011 and 2012, the last local call-in talk show in Tulsa. He is best know as an equal opportunity aggravator never greatly restricted by the tyranny of political correctness.