Congressman Jim Bridenstine announced today that Bill Nye "The Science Guy" and CEO of the Planetary Society will be his guest at President Trump's State of the Union Address on January 30th.
Bill Nye has excited children and adults about science for decades on platforms ranging from his PBS show to The Big Bang Theory, his books, and public appearances.  Congressman Bridenstine said, "Bill Nye has been inspiring countless young people to enter the fields of science, technology, engineering and math since before we used STEM as an acronym. 
"Our country needs these disciplines now more than ever.  It is an honor to have 'The Science Guy' as my guest at the State of the Union Address," Bridenstine added.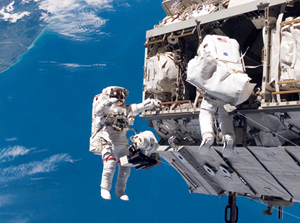 Bill Nye responded, "I'm very pleased to join Congressman Bridenstine at the President's first State of the Union Address. As CEO of The Planetary Society, the world's largest independent space interest and advocacy organization, I have enjoyed a productive working relationship with Congressman Bridenstine on space issues.
"The Congressman is the nominee to be the next Administrator of NASA, and as I often say, NASA is the best brand the United States has. This means that the NASA Administrator not only works to advance space exploration, but serves as an informal ambassador of U.S. capability and optimism to the world.
"At the State of the Union address, I hope to hear the President present plans for an ambitious, science-driven space exploration agenda. Space exploration brings out the best in us. It brings the nation together as we solve problems that have never been solved before and learn more about the cosmos and our place within it," Nye concluded.