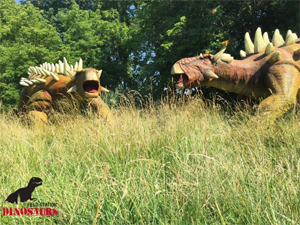 It's been more than 65 million years since dinosaurs roamed the wide open spaces of Kansas and Oklahoma, but now more than 40 life-size animatronic, moving and breathing dinosaurs can be found just outside Wichita.
The park will include the massive Alamosaurus, Velociraptor and of course, the mighty Tyrannosaurus rex. Thirty-four different types and more than 40 animatronic dinosaurs featured in the park arrive this week for final assembly. 
"We're in the final stretch before opening day," said Guy Gsell, Executive Producer of Field Station: Dinosaurs. "We're so excited to share our new park with families all across the Midwest. We've had an amazing response over the past year, with so many families connecting with us at events and through social media."
Tickets to a special VIP evening event on May 25th, the evening prior to opening day, are available now at www.KansasDinos.com.
Field Station: Dinosaurs is a world-class family attraction that combines cutting-edge science with the creative minds of great artists and teachers to create a one-of-a-kind experience that's thrilling, educational and fun – all a short drive from Tulsa.
Set against the natural backdrop of rolling Kansas grasslands, the Field Station is just minutes outside Wichita, Kansas. Over forty life-sized, realistic dinosaurs (including the 90-foot long Alamosaurus, among the largest animatronic dinosaurs ever made) come to life thanks to the brilliant engineering of the world's leading roboticists and the imagination of our artists. The park also includes a geodesic dome ropes course and miniature golf course, creating memorable and challenging activities for every member of the family.
The story of the dinosaurs is vividly presented on 14 acres of tall grasses, shady trees, winding trails and an outdoor amphitheater. Scientists from the Bighorn Basin Paleontological Institute have worked to ensure that the exhibition encompasses the latest theories and discoveries in the fields of paleontology, geology, and environmental studies. Workshops, games and activities connect the story of the dinosaurs to our world today, giving new relevance to their lives and power to the tale of their extinction. Click for more: www.KansasDinos.com