Amazon.com today announced plans to open its second Oklahoma fulfillment center in Tulsa, which will create 1,500 full-time jobs with opportunities for employees to engage with robotics technology.
The company recently announced an upcoming fulfillment center in South Oklahoma City.  Amazon currently operates a sortation center in Oklahoma City, where it employs hundreds of associates.
"We are excited to bring a second fulfillment center to Oklahoma and work alongside the state's incredible workforce," said Mark Stewart, Amazon's Vice President of North America Customer Fulfillment. "Support from local leaders has been instrumental in our ability to come to Oklahoma, and we are grateful for their collaboration to bring thousands of new jobs with benefits starting on day one."
Amazon employees at the more than 600,000-square-foot, state-of-the-art Tulsa fulfillment center will work alongside innovative technology created by Amazon Robotics. Employees at the fulfillment center will pick, pack and ship small items to customers such as books, household items and toys.
"I am incredibly thankful for Amazon's decision to build a world-class facility in our city and to employ so many Tulsans. Amazon is changing the world and in Tulsa we look forward to being part of their team," said Tulsa Mayor G.T. Bynum. "This is the largest new employer announcement in Tulsa history. Our team at the City worked tirelessly with Amazon to ensure Tulsa was selected for this opportunity. We know Amazon could have selected any number of other cities and appreciate Amazon's recognition of Tulsa as a city where they want to grow."
"We at the Tulsa Regional Chamber are absolutely thrilled that this Amazon fulfillment center brings with it 1,500 quality, full-time jobs with benefits and professional development, not to mention the significant capital investment in our region," said Chamber President and CEO Mike Neal. "The fact that this fulfillment center will feature the latest in automation aligns perfectly with the goal of attracting more new economy, technology-based jobs to our region.
"This is another great success story made possible by the Chamber-led Tulsa's Future regional economic development program. The Tulsa Regional Chamber has forged strong partnerships with the City of Tulsa, the Cherokee Nation, the Muscogee (Creek) Nation, Tulsa Tech, Oklahoma Governor Mary Fallin, the Oklahoma Department of Commerce and the Oklahoma Department of Transportation. Those relationships make projects like this possible, which greatly benefits all of us in the region and the state," Neal added.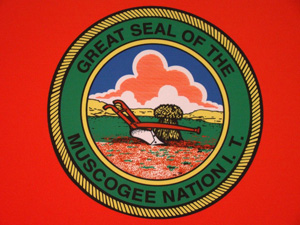 "Given its location near the Muscogee (Creek) Nation, this Amazon fulfillment center will undoubtedly have an historic impact on our tribal citizens and northeast Oklahoma at large," said Muscogee (Creek) Nation Principal Chief James R. Floyd.
"A project like this is a rare opportunity, and we are honored to play a role in this partnership of state, local and tribal entities. This significantly enhances the opportunity for economic prosperity of our tribal citizens. We look forward to a long-term relationship with Amazon and see it as a wonderful opportunity. In addition to the Tulsa center, we have more than 10,000 citizens in the Oklahoma City metro area that we hope to utilize for employment," Chief Floyd added.
Full-time employees at Amazon receive competitive hourly wages and a comprehensive benefits package, including healthcare, 401(k) and company stock awards starting on day one. Amazon also offers generous maternity and parental leave benefits and access to innovative programs like Career Choice, where it will pre-pay up to 95 percent of tuition for courses related to in-demand fields, regardless of whether the skills are relevant to a career at Amazon. Since the program's launch, more than 16,000 employees have pursued degrees in game design and visual communications, nursing, IT programming and radiology, to name a few.
Support from Oklahoma's Department of Commerce was instrumental to bringing this project and the recently announced Oklahoma City fulfillment center to Oklahoma. The Tulsa project is being developed by Seefried Industrial Properties.
To learn more about working at an Amazon fulfillment center, interested candidates can visit www.amazondelivers.jobs.
Amazon is guided by four principles: customer obsession rather than competitor focus, passion for invention, commitment to operational excellence, and long-term thinking. Customer reviews, 1-Click shopping, personalized recommendations, Prime, Fulfillment by Amazon, AWS, Kindle Direct Publishing, Kindle, Fire tablets, Fire TV, Amazon Echo, and Alexa are some of the products and services pioneered by Amazon. For more information, visit www.amazon.com/about and follow @AmazonNews.