Muskogee, Okla. – The Bass Reeves Legacy Troupe will host the ninth annual Bass Reeves Western History Conference in Muskogee on July 27 and 28, 2018. Three Rivers Museum and the Martin Luther King Center will be host locations for the two-day event.
Conference tickets may be purchased at the website bassreevesconference.com or at Three Rivers Museum. Registration for the event will begin at 9:00 a.m. on Friday, July 27 at the museum.
On Friday the Western History Conference will include a guided bus tour with local author Jonita Mullins to historic sites in Fort Gibson, western authors and vendors at Three Rivers Museum, and an evening of western movies.
Saturday's events include an interactive bus tour with costumed interpreters sharing the remarkable life of Deputy Marshal Bass Reeves. This will be followed by a High Noon Shootout and barbecue lunch at the Martin Luther King Center. The luncheon speaker will be Dave Kennedy with the U.S. Marshals Museum in Fort Smith. Other afternoon speakers include marshals researcher and author Bob Ernst and Muskogee Police Captain Reggie Cotton.
Bass Reeves was the longest-serving U.S. Deputy Marshal on the frontier.  His career in law enforcement spanned over 32 years at a dangerous time when the average marshal served less than five years. He also served as a Muskogee police officer.
Reeves was among the first African Americans to serve as a marshal west of the Mississippi.  Making over 3,000 arrests during his illustrious career marks him as one of the most successful lawmen in U.S. history.  His devotion to duty was legendary, leading him even to arrest his own son. His exploits rival any of those found on the movie screen, yet his life and legacy are largely unknown today.
This event began as a simple walking tour through downtown Muskogee and has grown to a two-day conference that draws attendees from across the country. Tickets for seats on the bus tours are limited and available on a first paid basis. Tickets can be purchased through PayPal at bassreevesconference.com.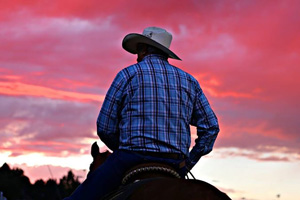 The Bass Reeves Legacy Troupe is a non-profit group that provides the costumed interpreters for the interactive tour. Volunteers are always welcome to join this group as re-enactors or as hosts. Contact Jonita Mullins at 918-348-6648 for more information.