Here are 352 (and counting) verified acts of violence and harassment against Trump supporters, much of it committed by Antifa terrorists wearing masks. Others appear as unorganized outbreaks by individuals (2015-18) apparently driven to rage by opposition media (formerly establishment media). This list, compiled and updated by Breitbart.com, grows daily.
Congress has now proposed law that would enhance penalties for anyone who "injures, oppresses, threatens, or intimidates any person" while wearing a disguise or mask.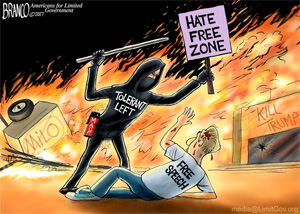 Throughout our country for a number of years it has been open fact. Media fantasizes about,  promotes, enflames and  approves of the violence committed against the right (HuffPo opposes the unmasking law) — Antifa has been allowed to run rampant, committing countless acts of violence against everyday, peaceful supporters of President Donald Trump as Breitbart.com notes.
The  Unmasking Antifa Act of 2018 can mean additional fines and prison terms of up to 15 years. The Hill reports the "bill was introduced by Republican Rep. Dan Donovan (N.Y.) and is co-sponsored by GOP Reps. Pete King (R-NY), Paul Gosar (R-AZ) and Ted Budd (R-NC)."
Ironically, this proposed law is similar to laws passed decades ago in states like Georgia and Alabama to stop another terrorist group of far-left Democrats, the Ku Klux Klan. According to the far-left New York Times, Ohio and West Virginia already have similar laws on the books. Click here for more on the Unmasking Act from Breitbart.com.
The list of attacks, compiled by Breitbart.com grows daily at this link.
Tulsa Today appreciates the research and warns readers that angry can happen anywhere anytime so be alert to your surroundings – even in Oklahoma.