The Tulsa Golden Hurricane won for the first time since their season-opening win against Central Arkansas, defeating the UConn Huskies 49-14 Saturday night at H.A. Chapman Stadium.  The Homecoming crowd witnessed TU fall behind 10-0 to the Huskies in the first quarter before storming back with 28 points in the second frame, while holding UConn to a field goal.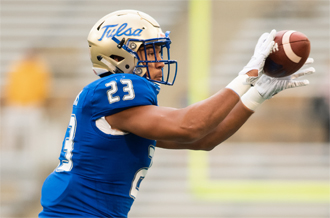 Following a McKinley Whitfield fumble recovery deep inside Huskies' territory, it appeared that the home team would draw first blood but quarterback Seth Boomer had the ball knocked loose as he attempted to stretch the ball past the end zone pylon.
UConn pounced on the loose ball while sliding out the back of the end zone for a touchback.  On Uconn's first play following the turnover, quarterback David Pindell found wide receiver Kyle Buss running free behind the Hurricane secondary for an 80-yard touchdown strike to take the early lead.  With 20 seconds left in the opening frame, UConn kicker Michael Tarbutt booted a 44-yard field goal to extend the visitors' lead.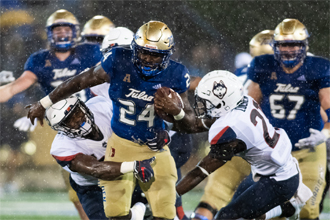 The second half was all Tulsa as Boomer engineered four touchdown drives, completing his first pass of the contest to Keylon Stokes for a three yard score, putting the Golden Hurricane on the board.  Following a 50-yard field goal from Tarbutt, TU seized the lead when Boomer found the end zone on a one yard keeper, which was set up by a 48-yard dash by running back Corey Taylor II.
The Golden Hurricane was just getting started and as rain continued to fall, points continued to pile up for the home team.  With 3:41 before intermission, Boomer connected with wide receiver Keenen Johnson on a 26-yard scoring strike.  Still not done in the first half, Taylor hit pay-dirt on a six-yard run.
During the explosive second period, Hurricane running backs Shamari Brooks and Taylor combined for 205 yards rushing while averaging an eye-popping 11 yards per rush.
TU's onslaught continued in the second half as Boomer had touchdown strikes of 38 yards to tight end Cole Neph and 18 yards to senior wide receiver Justin Hobbs. The Hobbs score was set up by an interception by Hurricane cornerback Keanu Hill.  Redshirt freshman Reed Martin, seeing his first action this season capped off the Hurricane scoring late in the third quarter with an 11-yard touchdown run.
TU relied primarily on their ground game to take time off the game clock the rest of the way, and with just 44 seconds left in the game UConn tight end Tyler Davis hauled in a three-yard touchdown pass from Pindell to close out the scoring.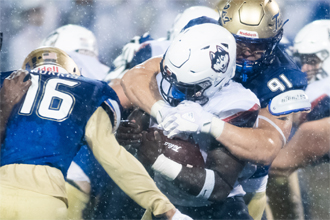 The Golden Hurricane churned out over 600 yards of offense against the Huskies.
Tulsa travels to Memphis on Saturday for a date with the Tigers, and will be without safety McKinley Whitfield for the first half after being flagged for targeting midway through the third quarter against the Huskies.