Many car shows are happening in and around the Tulsa area and there is something "cool" for everyone. With diverse activities for all ages, food, drinks and live entertainment, you can bring the whole family.
It is fun to explore the classic cars on display and for enthusiasts to enjoy something they love. Bring the family, admire and have a good time at these great upcoming 2017 car shows. 
Tulsa Cruise
Come out and enjoy a little cruisin' good time. Happening every Tuesday from 5PM to sunset, you can enjoy a parade of cars. Speak with the owners and check out their classics. Located at 91st and Memorial in Tulsa, you can expect to see 200-400 cars every week. Click here for more information online.
Cancer Sucks Cruise Night
Come out to benefit a great cause! Starting the first Thursday of every month until October, you have a chance to donate and check out cool classics.
Happening from 5:30-7:30 PM, it is a free cruise night for those patients at the Cancer Treatment Center of America. Bring your classic, come show your support and have a good time. Located at 10109 East 79th St. in Tulsa. Click here to reach the web site for more information.
Handlebars & Hot Rods
Put on by the same club that does Cancer Sucks Cruise Nights, you can head out to make even more donations to this wonderful cause on May 12 & 13. Indoor/Outdoor, many vendors, live entertainment, tattoo marathon and much, much more. Come out to The Expo Square Pavilion at 4145 E 21st St in the Tulsa Fairgrounds. For more information, check the details online by clicking here or call 918- 694-3637.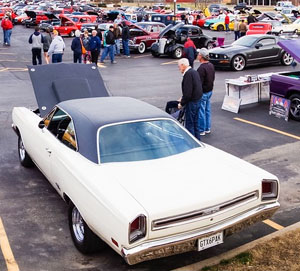 Patriotfest Car Event
With the red, white and blue behind you, come check out some of the best classic cars in the area. Happening on May 27 from 8AM to 3PM, you can check out the cars on display, as well as the cruise that follows. With many vendors and other extras, it is an event you don't want to miss. Come out to Route 66 in Tulsa at the Route 66 Village. Meeting at the Webster High School. Click here for more information online.
Hot Rods & Reptiles
The two most fascinating things will be together during this event. Come out on June 18 for a good time. Check out the classics, meet with the reptiles, check out vendors, food and fun! Happening at Safari Joes at H20 21st & Yale in Tulsa from 12 to 6PM. There will be water park fun, contests and more! Click here for the web site or call 918-749-7385 for more information.
You don't want to miss out on these exciting events. Happening throughout the spring, summer and more, you will never be bored again. Bring the family for a good time or just browse the classics yourself. If you own a cool car of your own, be sure to make plans to have it hauled to the show so you can show it off to everyone. There is a little something for everyone at a car show in the Tulsa area.
About the author: Jason Mueller is a car show enthusiast and am lucky enough to travel with my transport company, A-1 Auto Transport, to shows around the USA.