Air superiority in war is critical for success and the new Lockheed Martin F-35 Lighting II is a generation advanced beyond anything America's opponents can produce.  August 26 in Tulsa this writer was honored to fly the training simulator at the Ducommun LaBarge Technologies local offices.  It is a magnificent machine.


To battle in any field be: faster, stronger, smarter and better prepared for battle than your enemies.  For the F-35 Lighting II, Western Civilization should be grateful.  Ducommun manufactured sophisticated electronics are used in the radar and flight control systems for the F-35 and, as often happens in Oklahoma, they are also engaged in the manufacture of scientific equipment for the oil and gas industry.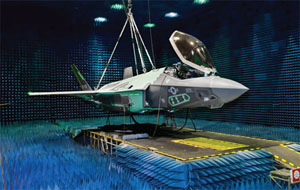 There is an estimated $14.2 million in economic impact tied to the F-35 program in Oklahoma and about $16.8 billion nationally, producing more than 125,000 direct and indirect jobs – not make work, but real employment of highly trained engineers and scientists.
Mayor Dewey Bartlett with several State Legislators attended the event with U.S. Rep. Jim Bridenstine (R-OK-1), a member of the House Armed Services Committee and a former active duty and current Reservist U.S. Navy pilot.
Bridenstine said, "As a combat pilot, there were two priorities every time I got into the cockpit – completing the mission and returning home safely to my family. Given the new threats that the next generation of pilots will face, the 5th generation F-35 provides the advanced stealth and lethal capabilities to accomplish both of these goals."
"We're delighted to be able to demonstrate the capabilities of the F-35 Lightning II, the world's most advanced military aircraft, here in Oklahoma," said Bob DuLaney, senior manager, F-35 Customer Engagement, Lockheed Martin. "The employees here are producing critical components for the F-35s flying today and we're excited to offer an opportunity to showcase this fighter's superior performance capabilities to them."
All-aspect, advanced stealth enables the F-35 to dramatically reduce the detection and engagement ranges of enemy systems or aircraft.  The F-35's shape, embedded antennas, aligned edges, internal weapons and fuel, and special coatings all contribute to its Very Low Observable (VLO) stealth capability.
Next-generation avionics and sensor fusion give the pilot real-time access to battlefield information.  This unmatched situational awareness, along with the aircraft's extreme agility, acceleration and stealth, provides a tactical advantage over all adversary aircraft.
Embedded, network-enabled capability allows information gathered by F-35 sensors to be immediately shared with commanders at sea, in the air or on the ground for U.S. and coalition partners, providing an instantaneous, high-fidelity view of ongoing operations.
To reduce cost in production and operational support; three variations of the F-35 are coming into service worldwide.  Each bring what was once though science fiction into today's operation.  While many of the F-35 systems are classified, the public information is stunningly advanced.
F-35A CTOL (Conventional Take Off and Landing)

The conventional takeoff and landing F-35A is a multirole, supersonic, stealth fighter that has extraordinary acceleration, agility and 9-g maneuverability.  The advanced sensor package gathers and distributes more information than any fighter in history.  The F-35 is designed to be a key net-enabling node as an information gatherer and transmitter in a vast network.  Its tremendous processing power, open architecture, powerful sensors, information fusion and flexible communications links will make the F-35 an indispensable tool in homeland defense, joint/coalition irregular warfare and major combat operations.
F-35B STOVL (Short Take Off Vertical Landing)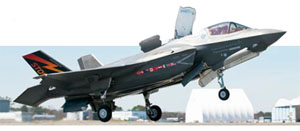 For the first time in aviation history, supersonic, radar-evading stealth comes with short takeoff vertical landing capability.  F-35B can operate from a variety of ships, roads and austere bases near frontline combat zones, greatly enhancing sortie generation rates. The unmatched basing of the F-35B – ashore and afloat – provides more employment flexibility in any scenario.  STOVL operation is made possible through the patented shaft-driven LiftFan® propulsion system which has overcome many of the temperature, velocity and power challenges of direct-lift systems.
F-35C CV (Carrier Variant)

For the first time in U.S. naval aviation history, radar-evading stealth capability comes to the carrier deck.  The F-35C Carrier Variant sets new standards in system integration, lethality, maintainability, combat radius and payload that bring true multimission power projection capability from the sea.
Global partnerships and technological innovation are foundational to the F-35 program, which builds on existing aerospace industry capabilities, incorporates national strategic desires and offers sustained growth in technology and development.  The F-35's common manufacturing processes and parts, advanced digital design tools and assembly methods help achieve the program goals of affordability, quality and assembly speed.
The F-35 establishes new levels of operational readiness through a fully integrated sustainment system and performance-based logistics environment.  Aircraft share common parts, support equipment and technical data – producing greater reliability and economies of scale to yield long-term affordability.  Parts requirements are anticipated and requisitioned quickly across the global supply chain, providing higher sortie generation rates and keeping aircraft mission ready.
The Autonomic Logistics Information System (ALIS) – the infrastructure for data collection, data analysis and decision support – ties together F-35 operational planning, prognostics and health management to match metrics and resources in real time.  F-35 sustainment is a total life-cycle system – a new paradigm for fighter aircraft support that dramatically streamlines maintenance and keeps the aircraft where it belongs – in the air, performing missions.
Lockheed Martin Aeronautics Company innovation on the F-35 program has been enhanced by an exceptional technology team.  Northrop Grumman provides strong support in sustainment, modeling, and simulation and mission planning. BAE Systems is responsible for the fuel, crew escape, life-support, prognostics and health management system, and integration support of the F-35 aboard the U.K. future carrier.  Pratt & Whitney builds the F135 engine, which is physically and functionally interchangeable across all three F-35 variants.
For more detail on the F-35 online, click here.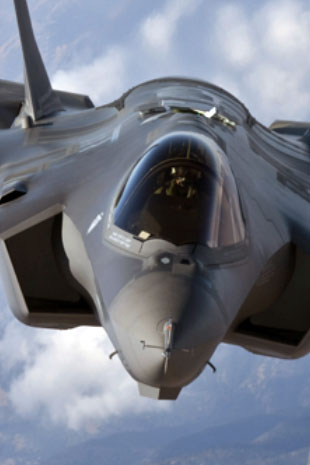 The August 26 event in Tulsa, attendees were gifted the opportunity to "fly" the F-35 cockpit demonstrator to experience stealth capability, fighter agility and integrated information through the eyes of a pilot. The cockpit is visually and audibly interactive and provides a realistic look at the F-35's performance, air-to-air and air-to-ground capabilities, sophisticated sensor fusion and advanced computational capabilities.
"To 'fly' like an F-35 pilot is a once in a lifetime event for most of us," said Anthony J. Reardon, chairman, president and chief executive officer, Ducommun Incorporated. "Ducommun is proud to be involved with this cornerstone security program as the Lockheed Martin team and the dedicated military pilots who fly the F-35 can rely on the sophisticated electronics we provide."
The F-35 program has more than 1,400 suppliers in 46 states and Puerto Rico, building and sustaining a highly skilled workforce critical to national security and economic prosperity. Additionally, thousands more are employed in the F-35 program's partner countries, which include the United Kingdom, Italy, the Netherlands, Turkey, Canada, Australia, Denmark, and Norway.
Founded in 1849, Ducommun Incorporated provides engineering and manufacturing services to the aerospace, defense, and other industries through a wide spectrum of electronic and structural applications. The company is an established supplier of critical components and assemblies for commercial aircraft and military and space vehicles as well as for the energy market, medical field, and industrial automation. It operates through two primary business units – Ducommun AeroStructures (DAS) and Ducommun LaBarge Technologies (DLT).
Headquartered in Bethesda, Md., Lockheed Martin is a global security and aerospace company that employs about 116,000 people worldwide and is principally engaged in the research, design, development, manufacture, integration, and sustainment of advanced technology systems, products, and services. The Corporation's net sales for 2012 were $47.2 billion.
Bridenstine said, "I am pleased that the F-35 team is leveraging Tulsa's renowned aviation industry to supply critical parts and components for the program."
By Divine Providence, the opportunity to "fly" the F-35 came on my birthday at the same time of birth decades later.  It is a present I will always remember with appreciation and awe.