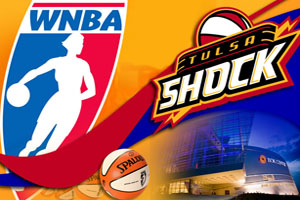 Skylar Diggins scored 30-points and Glory Johnson had 11-rebounds, but their herculean efforts fell short as the Connecticut Sun (9-10) topped the Tulsa Shock (7-11) 78-76 on Saturday night in front of 5,943the BOK Center.
It was Diggins third game this season where she scored 30 points or more. She has also scored in double figures in 17 of 18 games this season.
The Shock defeated the Sun in their building 96-83 on Thursday night, and the Shock were looking to make it two in a row but fell short in the game's final seconds.
Tied at 76, the Sun's Renee Montgomery laid the ball in as she drove to the basket with 5.8 seconds remaining, and in the frantic final seconds time was unkind to the Shock as the score-clock horn sounded.
If anything could be named as a cause of tonight's loss it was a shoddily played first half where the Shock were throwing bricks at the Sun's bucket, culminating in a 27% field goal shooting percentage in the first quarter, improving to just 37% by halftime. By the time it was all over the Shock had just a 40% field goal rating and a dismal 3-14, 21% on three point shot attempts. In all, the first two quarters of the game saw the Shock lead only once, and that was late in the second quarter when Roneeka Hodges made a layup with 1:35 left in the half.
The Shock would only lead one more time in the game, late in the fourth quarter, but it didn't last very long. All in all the Sun came in with the determination to deny the Shock easy shots, a point not lost on Tulsa head coach Fred Williams.
"We had a lot of opportunities and a lot of shots inside came out empty." Coach Williams said, "They got some run outs on us and kept us on our heels."
Other standouts for the Shock included Courtney Paris, who had 12 points and nine boards. Glory Johnson earned her third straight double-double, scoring 13 points and grabbing 11 rebounds. It was her eighth double-double this season. Finally, in addition to Diggins Paris and Johnson, first round draft pick Odyssey Sims had 14 points and had a pair of assists after scoring 30 in Mohegan CT on Thursday night.
For the Sun, Katie Douglas was the Sun's leading scorer, putting up 18 points. She also grabbed six rebounds and dished out four assists. She has scored in double digits in three straight games for the Sun. In addition to Douglas two other Sun players were in double figures, Chiney Ogwumike (16) and Montgomery (15).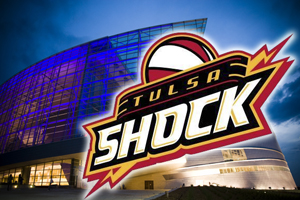 Renee Montgomery scored 15 points and had four assists off the bench. Her last basket came with 5.8 seconds left and ended up being the game winning shot for the Sun; Ogwumike scored 16 points and grabbed six rebounds. She has scored in double figures in 18 of 19 games to start her career.
From here the Shock stay at home to face Indiana on Tuesday night, and Minnesota on Thursday night before taking on the Washington Mystics on Saturday. All games start at 7pm in the BOK Center.